Putin agrees to destroy banned foodstuffs at Russian border crossings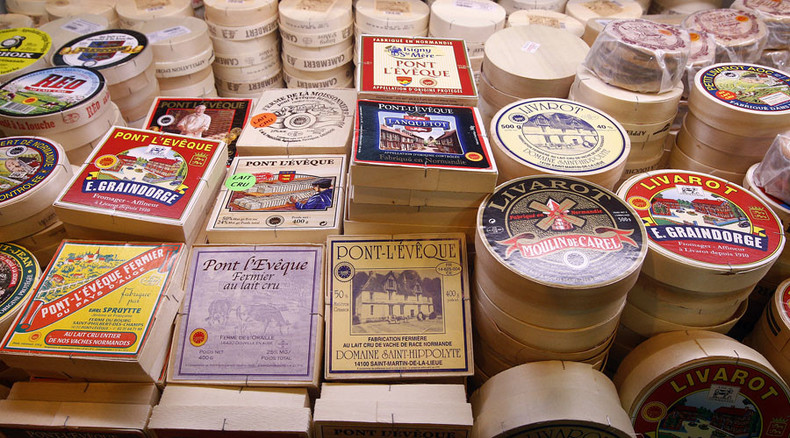 The Russian president has asked the government to prepare a law to deal with products imported to Russia that violate the reciprocal embargo. The food would be destroyed on the border, instead of being sent back.
The measure was suggested by Agriculture Minister Aleksandr Tkachev. On Friday, he asked Vladimir Putin and the government to change the laws so Russian customs could immediately destroy contraband instead of sending it back to the country of origin.
"Let us agree with the minister's proposal. I ask the administration and the government to look into the issue together with lawyers and put forward the appropriate decisions," Putin said.
In August 2014, Russia began to introduce a ban on imports of meat, poultry and fish, cheese, milk, fruit and vegetables from the United States, EU countries, Australia, Canada, Norway, and some other countries that used sanctions against Russia over the Ukrainian crisis and the reunification with Crimea.
Deputy Prime Minister Arkadiy Dvorkovich told reporters earlier this week that Russian law enforcers had initiated several hundred criminal cases into attempted smuggling of banned foodstuffs since the embargo came into force.
READ MORE: Leftists call for lifting Russian embargo on food imports
Russian officials have said repeatedly that the embargo was a reciprocal measure that could be lifted or changed only after similar actions from the foreign states involved. In March, Vladimir Putin's press secretary Dmitry Peskov commented on US President Barack Obama's decision to prolong US sanctions against Russia, saying continued pressure would never affect Moscow's foreign policy. He called the sanctions "a double-edged sword" that hurt the Russian economy and businesses in the countries that had introduced them equally, as well as the world economy as a whole.
Leftist MPs have several times suggested lifting the embargo, completely or in part, but the centrist ruling party United Russia, the president and the government have so far refused to do so.