Dutch stage massive tomato fight with excess produce unwelcome in Russia (PHOTOS, VIDEO)
In an exotic protest against the sanctions strife between the EU and Russia, hundreds of Dutch pelted each other with around 200,000 forbidden tomatoes in the heart of Amsterdam, not far from the city's Royal Palace.
Pears and apples also came in handy as farmers in the Netherlands voiced their anger and demanded compensation for the steep drop in sales, after Moscow restricted imports of the EU food products in response to the Brussels-imposed sanctions.
The rally follows a massive drive by some 45 major food growers who registered for EU compensation with the Netherlands Enterprise Agency. Under the scheme, farmers could sign up for compensation for either having their produce destroyed or given to the Food Bank.
A scene frm #PTI dharna #DChowk... lmfao... just kidding its an Amsterdam tomato fight to support farmers #PMLNTrollspic.twitter.com/PQS43zaGmH

— LaəəQ® a.k.a LAFÏ (@LaeeQ_) September 14, 2014
"We are talking about a very large quantity of fruit and vegetables," said Michel van der Maas, a spokesman for the Netherlands Enterprise Agency, who said the exact amount was still unknown. "It's many tonnes," Reuters quoted him as saying.
"Most of the products are being taken to destruction plants, rather than the Food Bank," he said. "There hasn't been a lot of interest from the producers [to donate to charity]," he said.
Tomato group battle on the Dam square Amsterdam, against Russian boycott, sponsored by Siemens)). pic.twitter.com/L4ZZBKqHFI

— Erik (@ErikTimmers) September 14, 2014
The idea to stage a massive tomato fight came from Spain's annual 'La Tomatina' festival in Bunol, in which participants throw tomatoes and get involved in splatting one another purely for fun. But the Dutch added an economic twist to the event, as the EU has already been struggling economically as a result of austerity measures.
The so-called 'Protestierspass' cost the activists 15 euro ($20) each to participate, the proceeds of which is to benefit European vegetable producers, who already suffer from the preventative restrictions imposed by Russia in order to ensure its food supply safety from any further sanctions Brussels might eventually come up with.
"It was hard in there. It was mean. But it was fun," one beaming participant, Lois Bloedjes, told AP. "Everything became one big pile of mush. There were people swimming in it on the ground."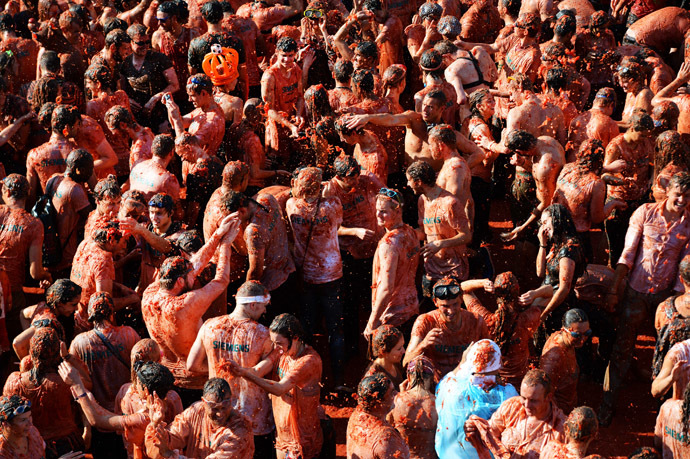 The leftover tomatoes will be cleaned and sent to a biogas production facility.
The Netherlands, the world's second-largest exporter of agricultural products, is set to lose 300 million euro annually from canceled business with Russia , as it accounts for roughly 10 percent of Dutch exports of vegetables, fruit and meat.
To help the farmers, a 125-million-euro EU Commission Common Agricultural Policy fund was established, from which the growers are expected to get some cash, while Amsterdam is willing to cover the cost of transporting excess produce to eight Food Banks across Holland.
La Tomatina, #Amsterdam style: huge tomato fight in support of #Dutch farmers affected by Russian #CounterSanctionspic.twitter.com/qm4P9JTa1Z

— Solunarium (@solunarium) September 14, 2014
The scheme was announced on August 18 after Russia responded to several rounds of western sanctions with a ban on imports of food from the countries involved. Moscow introduced a one-year food embargo against the US, EU, Norway, Australia, and Canada that will block an estimated $9 billion worth of agricultural exports to Russia. EU members, particularly those close to Russia, were most affected by the loss of the Russian market. So far payments under the scheme have been halted due to the large volume of applications.
You can share this story on social media: