Catalonia calls early elections in new independence push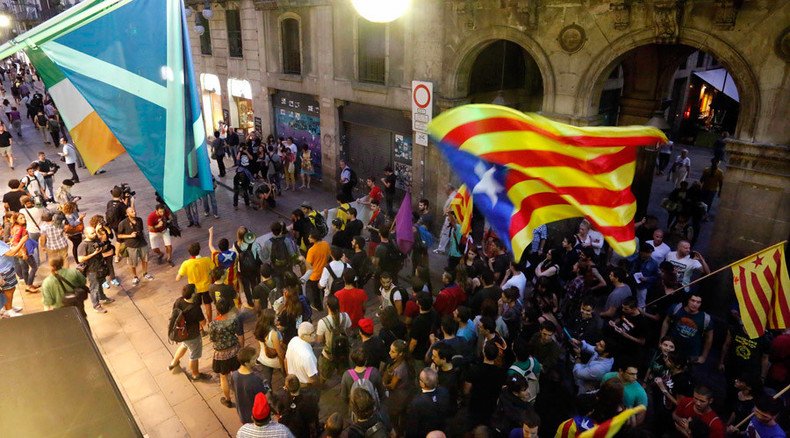 The leader of Catalonia has signed a decree calling for early parliamentary elections on September 27 which will serve as a proxy vote for the northeastern region's potential secession in a fresh attempt at gaining independence from the rest of Spain.
Catalan president Artur Mas announced on Monday that if pro-independence parties secure the majority of votes in parliament then the region, which accounts for a fifth of Spain's economic output, will aim for independence within 18 months.
While the Spanish general elections are due in 2015, the early Catalonian vote puts pressure on Madrid. The Catalan nationalist leaders have recently signed an agreement on what they call "a road map" to secession which aims to implement the plan by 2017.
The region's three pro-independence parties are predicted to win 68 to 72 seats in Catalonia's 135-seat parliament, according to last month's La Vanguardia poll.
The Catalan coalition called "Together for Yes" comprises the ruling CDC party, the Republican Left of Catalonia (ERC) in addition to associations responsible for pro-independence rallies in the region. By last week the coalition had already presented plans to create a Catalan tax agency and agreed to establish a public credit institution which could later could be transformed into a Catalan central bank.
Spain's central government in Madrid furiously rejects the notion that elections in Barcelona should be viewed as a referendum on independence.
"In a regional election one chooses lawmakers for the regional parliament, who in turn elect a president of the region. This is what citizens are deciding with this vote and nothing else," Deputy Prime Minister Soraya Saenz de Santamaria, said on Monday.
READ MORE: 80% of Catalans say 'Yes' to independence in symbolic 'referendum'
Last year a symbolic vote on independence showed that some 80 percent of the 2.2 million people supported separation from Madrid. Prior to the November 9 referendum, Madrid blocked the vote through the Spanish Constitutional Court.
In the fallout stemming from a symbolic independence vote which was conducted despite a court injunction, Spanish state prosecutors filed charges against referendum supporters including Mas.
In the meantime, the Spanish general election is expected to take place in late November. As Catalonia braces for its new attempt to gain independence, popular support for regional secessionist groups in the region has dropped due to internal politics and the emergence of popular nationalist parties.
READ MORE: Spanish local elections: Upstart Podemos, Ciudadanos parties shine, ruling PP fades
Spain's regional elections in May showed big gains for upstart leftist and center-right parties with conservatives losing their majority: The results have been the worst for Mariano Rajoy's People's Party in more than 20 years. Voters have punished the Prime Minister for four years of severe spending cuts and a string of corruption scandals.
Rajoy now faces stiff opposition by relative new-comers, the Podemos and Ciudadanos parties which have appealed to voters by calling for more transparency and accountability in politics.
You can share this story on social media: