80% of Catalans say 'Yes' to independence in symbolic 'referendum'
An overwhelming majority of Catalans have said "yes" to independence and secession from the central Spanish government in Madrid in a highly-anticipated but symbolic referendum poll on Sunday.
Some 80.72 percent voted to form a state independent of Spain, Joana Ortega, vice president Catalonia said shortly after midnight, with over two million Catalans reportedly turning out for the unofficial referendum. Ortega could not immediately give an official turnout rate since there was no formal electoral roll for some 5.4 million registered Catalan voters.
READ MORE: Homage to Catalonia: People defy Madrid casting ballots in symbolic independence vote
Voters were given two questions to answer, "Do you want Catalonia to be a state?" was the first and in the case of a positive response, voters were asked: "Do you want Catalonia to be an independent state?"
"Yes-no" response obtained 10.11 percent; "no-no" 4.55 percent; and blank votes accounted for 0.56 percent, with 88.44 percent of the votes counted.
President of Catalonia, Artur Mas, called the symbolic vote on independence "a complete success" with "clearly more than two million people" participating despite the veto imposed by Madrid.
"Let no one forget, especially the Spanish government, that Catalonia has once again shown that it wants to govern itself," he said at a hearing in Barcelona after the vote. It is "a giant step in our legitimate aspiration to peacefully and freely decide our future."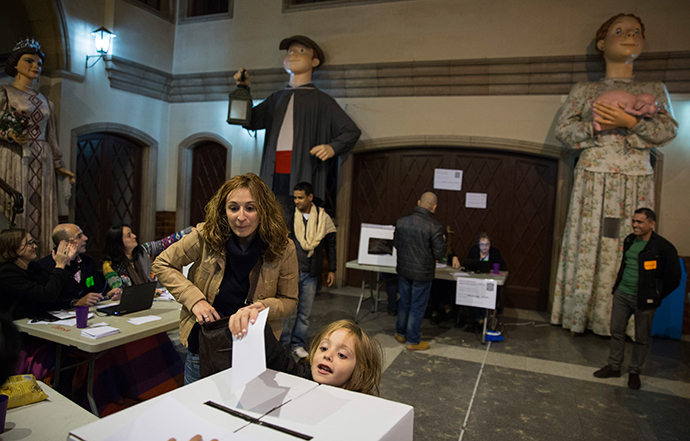 A message clearly not understood in Madrid, where the Minister of Justice, Rafael Catala, on behalf of the Spanish government, defined the vote as "political propaganda organized by pro-independence forces."
After Spain's High Court ruled the independence referendum proposed by Catalan leader Artur Mas unconstitutional last month, the Madrid government has also issued a ban on the informal poll, forbidding Catalans from making any public show of support for independence.
In response to Catala's statement, Mas said he feels bad for the people in central government who missed "a golden opportunity to understand the message of Catalan will," recalling the examples of referendums held recently in Scotland as well as Quebec province of Canada in 1995.
Earlier, the Spanish Prime Minister Mariano Rajoy, stated the vote "will not have any effect."
But that did not stop some 41,000 volunteers from organizing the election with over 1,300 polling centers set up for the historic vote.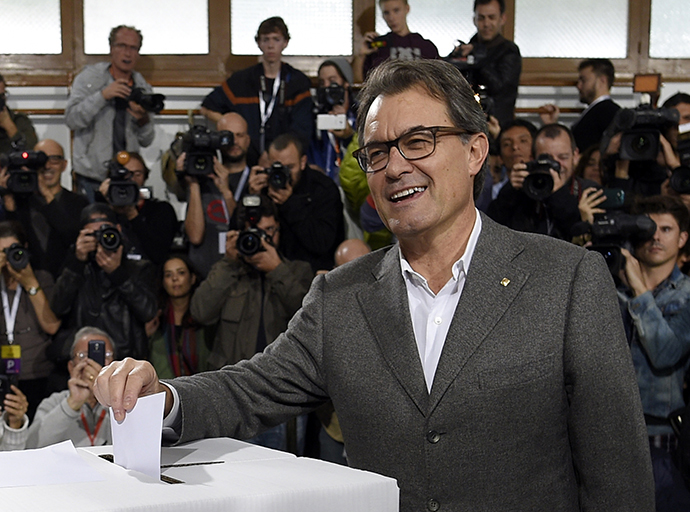 In the meantime, Mas said his government will push for an official referendum.
"We deserve the right to vote in a definitive referendum and this is something that maybe is understood in Madrid, but if it is not understood in Madrid our will is to go on with this process," he said after casting his ballot.
As for Madrid, Catala said, that the central government would evaluate the facts of Sunday's vote and decide whether or not to begin legal proceedings against the regional government.
Historically Catalonia, which already enjoys significant autonomy from Madrid, has been one of Spain's better-off regions and the local population has resented having to send their taxes to the capital to help support poorer areas of the country. However, the area of 7.5 million people is currently €57.1 billion euros ($78.5 billion) in debt, which is the most of any of Spain's 17 autonomous regions.
Catalonia, which accounts for one-fifth of Spain's economic output, has had no problem in attracting foreign investment, which grew by 31.5 percent in 2013 according to figures from Spain's economy ministry.
You can share this story on social media: