Homage to Catalonia: People defy Madrid casting ballots in symbolic independence vote
High numbers of Catalan voters are determined to take part in the highly-anticipated symbolic poll on Sunday on whether to split from Spain and become an independent country.
"People seem extremely enthusiastic. If you walk through the streets in Barcelona that energy is palpable," RT's Marina Portnaya reported, adding that banners, posters and ribbons are being displayed throughout the city in support of Catalonia's "consultative vote."

Organizers told RT that over 1,300 polling centers have been set up for what is expected to be a "high turnout." There's also been an army of volunteers, up to 50,000 people, making phone calls to people living across Catalonia, informing them where to go and how to vote.
More than 1300 voting locations are operating as Catalans cast ballots for independence poll #9N2014#CataloniaVotespic.twitter.com/cdaRmZIVfm

— marina portnaya (@portnayanyc) November 9, 2014

Regional police are on high alert, but organizers believe that officers are unlikely to stand in their way or to block voters from casting their ballots.

There have been several challenges that organizers and volunteers have faced, leading up to the consultative vote, Portnaya said.

"Madrid sent letters to the public schools that are serving as polling sites, threatening them, saying that it's illegal for schools to take part in an election, even though this is a non-binding unofficial consultation vote."

Many pro-independence volunteers received robot calls all day long on Saturday, Portnaya reported, in an apparent effort to monopolize their mobile phones and drain their batteries to prevent them from using them.
As of 1800 (6pm), 1,977,531 Catalans voted in the non-binding poll for independence. #Catalonia#9N2014

— marina portnaya (@portnayanyc) November 9, 2014
After Spain's High Court ruled the independence referendum proposed by Catalan leader Artur Mas unconstitutional last month, the Madrid government has also issued a ban on the informal poll, forbidding Catalans from making any public show of support for independence.

Thousands rallied in front of the National Museum of Catalonia on Friday, however, in an effort to show resolve to stage the November 9 so-called "consultative vote," despite warnings from Spanish PM Mariano Rajoy's government to disrupt it.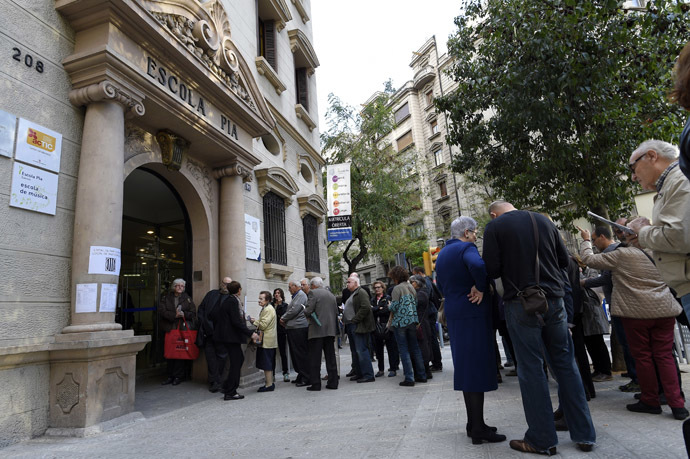 READ MORE: Catalans gear up for symbolic independence vote Sunday defying Madrid's ban
Rajoy said ahead of the vote: "The law will be enforced. There will be no referendum that calls into question the sovereignty of the Spanish nation. There will be no division of Spanish territory while I am prime minister."

However, according to opinion polls, up to 80 percent of Catalans want more autonomy from Spain, with about 50 percent backing full independence. With its own language and culture, the comparatively well-off autonomous region has a population of 7.5 million and accounts for nearly one-quarter of Spain's GDP.

"According to the organizers...within the first four hours of polls being opened, nearly 1,143,000 Catalans turned out to vote – that's just in the first four hours. Polls will be open for 11 hours. So clearly that is an indication that many are coming out to cast their ballots," Portnaya stated.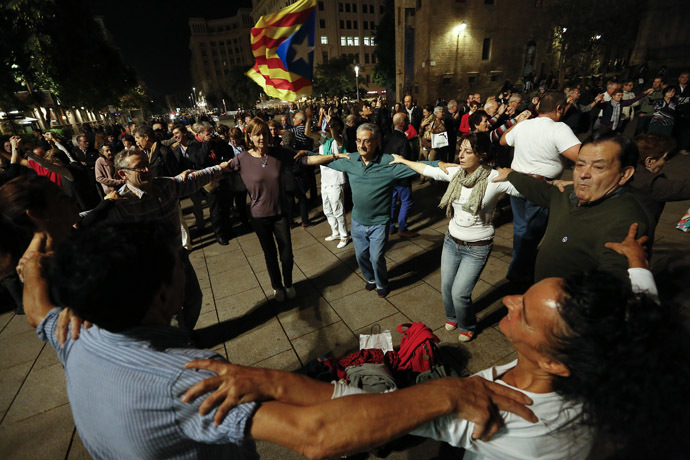 The polls look set to draw up to 1.5 million people, to whom the vote is about protecting their right to freedom of expression.

Thousands of residents in northeast Spain have been showing their support for the poll, with call centers run by volunteers being set up to draw more and more people into the vote, RT's Marina Portnaya reported. Over 40,000 volunteers will help set up voting stations Sunday.

It's hoped that a high level of support could at least bring central government to the negotiation table on such issues as tax and political autonomy.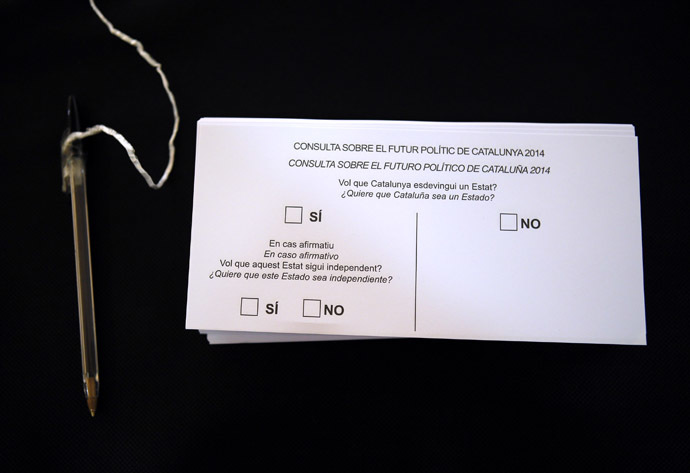 Catalans will be able to vote in the poll simply by showing up and registering. Given that the vote won't be officially organized, due to a ban on "preparatory activities," municipalities can reserve the right not to stage the poll.

"It's not a referendum or a consultation or anything that resembles that," Rajoy said, criticizing the symbolic vote.

But even as Rajoy urged Catalans to "return to sanity" on Saturday, the spokesman for the Catalan regional government, Francesc Homs, said that Spanish judiciary have pledged that no one will be able to "ban citizens' freedom of expression."
"Of course the economic crisis in Spain and all of Europe is one of the big driving forces of this call for independence, with Spain having unemployment at or above 25 percent and Barcelona being the wealthiest region of Spain," Portnaya said.
"You have many Catalans urging and wanting more fiscal independence – they say that they pay much more into the state than they receive back – and Catalonia does account for more than 20 percent of Spain's GDP. They believe that if they are the ones earning, they should be the ones deciding how their money is being spent," she added.
The vote went very positively – as expected, Anna Arque of the European Partnership for Independence told RT.

"With massive participation and always with a smile on the faces of Catalan people," Arque said. "The situation is that for Catalans this referendum already could be legal because there's an international legality and also a Catalan legality."

"What happens is that again Spain opposes us – they are the ones saying this referendum is illegal, and unfortunately the Catalan government accepted the decision of the Spanish court…but still what happens is that it is the people who are continuing to show the world our determination".

Arque wants elections to be called tomorrow, "so we have a President that is going to take forward the sovereignty of Catalonia," she said.

Polls close at 9pm.
You can share this story on social media: