Catalans gear up for symbolic independence vote Sunday defying Madrid's ban
Catalans are holding a massive, symbolic regional independence vote this weekend, in defiance of the Spanish government's ban. The polls look set to draw upward of 1.5 million people, to whom the vote is now about freedom of expression.
Artur Mas, the Catalan president, has remained defiant in the face of the exceedingly draconian bans by Madrid on any show of support for secession. The Catalan leader swore to defend his people's "right to decide" in the matter.
Not only were the Iberian region's claims for an official referendum shot down, the Madrid government has now banned any symbolic public show of support for the measure as well.
Prime Minister Mariano Rajoy earlier said: "The law will be enforced. There will be no referendum that calls into question the sovereignty of the Spanish nation. There will be no division of Spanish territory while I am prime minister."
When it first became clear by the end of September that there would be no official referendum, this firmly placed the large political event in the category of "opinion poll," rather than the start of a real secession process.
The country's top constitutional court on November 4 came to another unanimous ruling, effectively cancelling the second legal challenge posed by the Catalans. The government then ordered a ban not only on the non-binding polls, but on any show of support for independence at all – symbolic or otherwise.
On that day a press conference was held, where the regional government's spokesman Francesc Homs said preparations for the November 9 vote would go ahead, despite the ban, calling the polling a "participative process."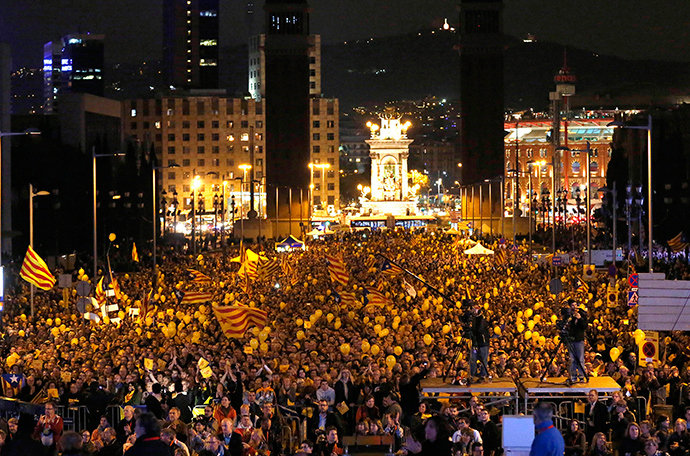 Exercising 'freedom of expression'
The term used by Homs underscores the nature of what's happening: citizens will be able to vote simply by showing up and registering; the vote will not be officially convened – meaning that municipalities can reserve the right not to hold them. Some have compared the process with Catalonia's 'march of the millions'.
And according to Reuters, it's still not clear whether ballot boxes will be housed in official facilities, which may include schools and town halls.
Increasingly the mood isn't that of challenging decisions legally, but rather of exercising "freedom of speech" and fundamental rights for things like public gatherings and flying lanterns.
Despite even a ban on "preparatory activities," Homs said the voting would go ahead despite "all of the consequences" this may entail.
Thousands turn out for last meeting of Catalonia Independence Campaign before #9N2014pic.twitter.com/RSAr0rWr7z

— marina portnaya (@portnayanyc) November 8, 2014
Homs reminded reporters that several days previously he warned that "we were about to pay homage to absurdity. If the Constitutional Court is looking to ban citizens' freedom of expression, it obviously won't be able to."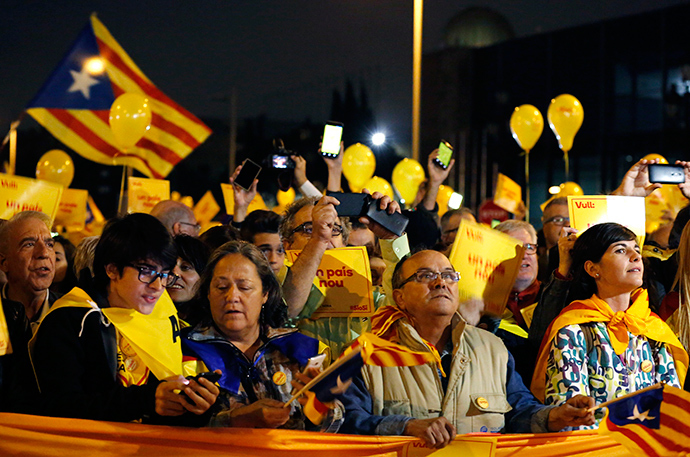 'Things can't stay as they are for long'
Ahead of the November 9 so-called "consultative vote" the Catalans have been taking to the streets in droves, holding massive protests and rallies of support for Catalonia across the region. On Friday, a massive but peaceful crowd rallied in front of the National Museum of Catalonia. The Catalan flag graced the façade of the building as thousands cheered.
According to recent polls, nearly 60 percent of Catalans support independence from Spain. With its own language and culture, the autonomous region has a population of 7.5 million and accounts for nearly one-quarter of Spain's GDP.
It is worth noting that, unlike Madrid, which would suffer immense losses with Catalonia gone, the region can do just fine without the central government.
Economics professor Elisenda Paluzie told RT that the region is "relatively rich. Catalan's GDP is between that of Denmark and that of Finland. If [they] can survive as independent states, it's the same for Catalonia."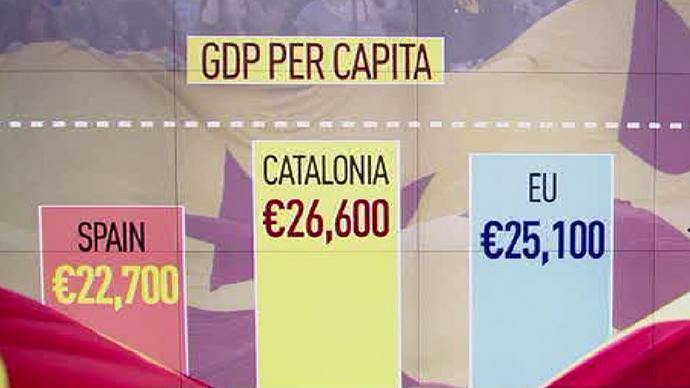 "We hope that Spain will reconsider its position and realize that things can't stay as they are for long. They will have to give in at some point," one elderly person told Reuters.
Thousands of ordinary Catalans have been showing their support for Sunday's poll, with call centers run by volunteers being set up to draw people into the vote, RT's Marina Portnaya reports.
"I found the Catalan independence movement inspiring and decided to volunteer," Marta Torres, a volunteer, said. "They needed help handing out pamphlets and informing people where they can vote."
David Fernandez from the Popular Unity Candidates sees the moves by Madrid as "blocking the will of the people" and "illegal manipulations."
A member of the Spanish parliament, Alfred Bosch, talked about how "they've used the courts… all their power to prevent people from voting. But we've still decided that we're a free people and we're of age. Nobody can tell us what we can and cannot do in the political, democratic sense… We will cast the vote for the future of our country."