Catalonia's flag burned as 40,000 march for Spanish unity in Barcelona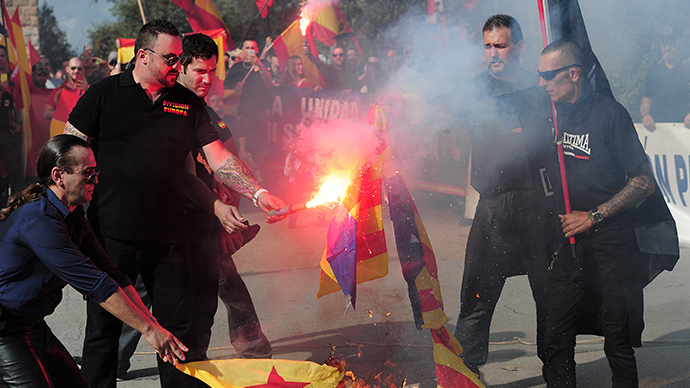 Pro-Spanish unity supporters set Catalonia's flag ablaze as thousands marched in Barcelona on Spain's national day to oppose the region's decision to hold an independence referendum. The march took place less than a month before the Nov. 9 vote.
At least 40,000 people took part in the rally, according to police.
Some of the right-wing ultras were burning the "Estelada", the Catalan unofficial flag of those who want independence from Madrid, Ruptly's video shows.
"I am Spanish," the protesters were singing. They were waving banners, saying "unionists always."
"In Catalonia there are a lot of people who don't want independence but there is fear," a pro-Spain supporter told Ruptly.
Other demonstrators were waving Spanish and Catalan flags, chanting "Mas, resign!" Artur Mas is president of Spain's autonomous community of Catalonia, who is pushing for the region's independence referendum on November 9.
"I want the freedom to be both Spanish and Catalan at the same time," Javier Pardo, one of the demonstrators, told AFP. "They can't take that away from me."
'Nobody is allowed to break up Spain': Madrid court suspends Catalonia vote
The march was organized by the Catalan Civil Society organization under the motto of "Spain for All."
"What we want is an end to this division and to the conflict," one of the organizers, Ramon Bosch, told AFP.
According to Bosch, if Catalonia becomes independent, 7.5 million Catalans will become "poorer and more insignificant."
Madrid says the upcoming Catalonia's independence referendum is illegal. Spain's Constitutional Court has ordered it to be suspended.
"Nobody and nothing will be allowed to break up Spain," Spanish Prime Minister Mariano Rajoy said in September.
Scuffles as Catalonia erupts in protests over Nov. 9 referendum ban (PHOTOS)
According to the Catalan government and Minister for the Presidency, Francesc Homs, the Catalan government will consider some preparations for the vote from October 13-15, the Catalan news agency reported.
He added that "there is no deadline" to decide if the vote will take place.
The Catalans have repeatedly taken to Barcelona's streets to show their determination to continue on their path toward independence.
Located in the northeast of Spain, Catalonia is a relatively prosperous region and industrial center, with its economy accounting for one-fifth of Spain's economy. It has its own language, a rich culture, and a history of rebellions against Spanish rule from Madrid.
Support in Catalonia for seceding from Spain has grown in the relatively prosperous northeast province over years of economic hardships and austerity measures. A recent opinion poll by the Omnibus Opinion Studies Center showed that almost 60 percent of Catalans would vote for independence.