Tens of thousands of Catalans rally, demand early elections (VIDEO, PHOTOS)
About 110,000 people gathered in the center of Barcelona to call for snap regional elections after Catalonia was forced to cancel its November 9 independence referendum under pressure from Madrid.
The action, dubbed "Now is the Time," was organized by Òmnium Cultural – a Catalan cultural organization – and the Catalan National Assembly (ANC), which campaigns for Catalonian independence.
The demonstrators flooded the city's main Catalonia Square, wearing yellow t-shirts and waving the Catalan flag while carrying banners reading "Now is the time" and "We are ready."
According to the police, about 110,000 people took part in the rally, El Pais reported.
"We want independence because we pay more money to Spain and don't return anything," a protester told RT's Peter Oliver. "We have to show the world the willing to vote and to get independence," added another participant of the rally.
The protesters asked the president of Catalonia, Artur Mas, to call early regional parliamentary elections. Doing so is likely to benefit the more radical pro-independence party ERC – an ally of Mas' CiU party.
"President, call elections, we want to vote in the next three months. We want to start in the spring of 2015 with a new parliament," said Carme Forcadell, head of the pro-independence National Catalan Assembly, while addressing the crowd.
Forcadell and the president of Òmnium Cultural, Muriel Casals, demanded that independence-oriented parties should regain political unity, which they have had in the past. However, neither of them mentioned a possible candidate to represent independent Catalonia. Forcadell said their organizations could not accept delays on the way to independence, adding that it is time for political parties to make decisions.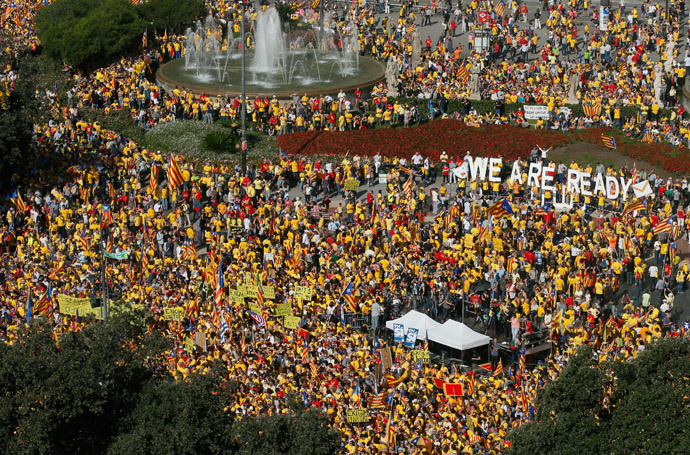 A group representing the Catalan Civil Society then read aloud the Declaration of Independence of Catalonia, which was approved by parliament in 2013. The document defines Catalonia as a politically and legally sovereign subject which has a right to choose its future through a referendum.
Since the independence referendum was suspended by the constitutional court of Spain for an unlimited period of time, the referendum on November 9 will be held as a "consultation of citizens."
According to polls, about half of Catalans want more independence from Spain.
Ana Aroca, coordinating manager of pro-independence site Helpcatalonia.cat, says the movement is about dignity.
"It's not about money, really. It's about respect, about democracy, about being able to speak your language," she told RT.

You can share this story on social media: