Spanish local elections: Upstart Podemos, Ciudadanos parties shine, ruling PP fades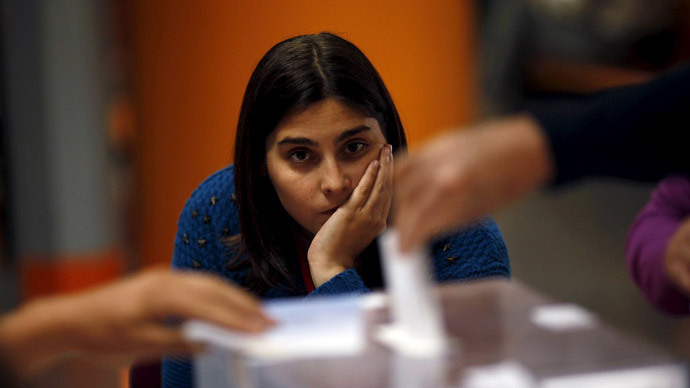 Preliminary results from Spain's regional elections show big gains for upstart leftist and center-right parties and the Conservatives losing their majority. While receiving the most total votes, the ruling PP party may now face coalition politics.
With more than 90 percent of the votes counted in Sunday's elections, the ruling People's Party (PP) appears to have secured most of the votes in many of Spain's 8,122 municipalities. However, it also lost the majority in most of them.
Notably in the Madrid city council, PP managed to win 21 of the 57 seats, while 20 seats went to The Madrid Now (Ahora Madrid) coalition backed by a number of left-wing movements, such as Podemos. The Socialist Party (PSOE) won 9 seats in the capital's assembly.
The results might be the worst for PM Mariano Rajoy's party in more than 20 years, as many of the voters, suffering from severe spending cuts introduced by the current government, have turned to the market-friendly Ciudadanos and anti-austerity Podemos, after a series of corruption scandals in the country.
Meanwhile in Barcelona, another Podemos-backed movement, Barcelona en Comu, headed by social activist Ada Colau, gained 11 seats in the local parliament, beating parties backing Catalonia's independence from Spain. Colau has promised a drastic reduction in perks for local MPs and an emergency plan against poverty.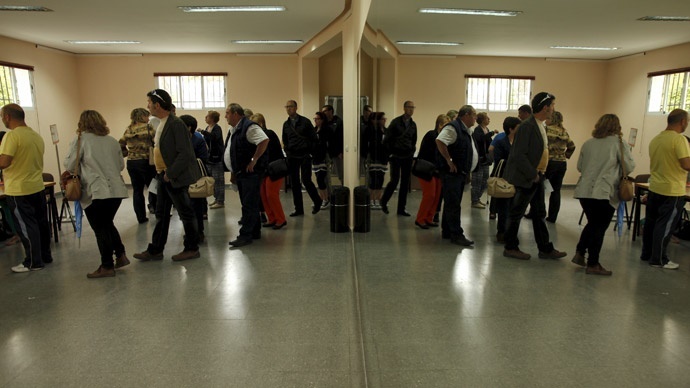 Spain's PP and its rival Socialists have been trading power for decades, but the surge in support for the pro-business newcomers Ciudadanos, "Citizens," and leftist Podemos, "We Can," has shown that the country's two party system may now be facing a strong challenge.
READ MORE: Spaniards hold mass rally for leftist Podemos ahead of elections
"Panorama has changed completely. The traditional oligopoly of two political parties is going to disappear," expert in central and oriental European countries, Carlos Puente Martin, told RT.
Overhauling the two-party system has long been on the two upstart political parties' agenda. With opinion polls suggesting no party garnering enough votes to govern independently in most regions, the results of today's regional elections may signal the arrival of coalition politics, according to Reuters.
"We hope something will change, not radically, but at least something. And that it will also spell changes in the general elections so that we don't have another absolute majority," Amparo Aracil, a pensioner from Valencia told Reuters.
Prime Minister Mariano Rajoy's re-election bid later this year could now be undermined by Podemos and Ciudadanos. The parties have appealed to voters by calling for more transparency and accountability in politics. Spain has been suffering from an economic crisis that has left nearly a quarter of Spaniards out of work.
READ MORE: Almost 100 families evicted daily in Spain – statistics
The elections, taking place in 13 of Spain's 17 regions and more than 8,000 towns and cities, are seen as a preview of the political mood of the country, with national elections due to take place later this year in November.
"We stand at the crossroads where the situation is unclear of what will happen in Europe in the next five years. All we can say is that there will be a continuous input of new parties coming into the force," writer and journalist Mark Bergfeld told RT.
You can share this story on social media: