Latvian military spots 'Russian navy ship' near its borders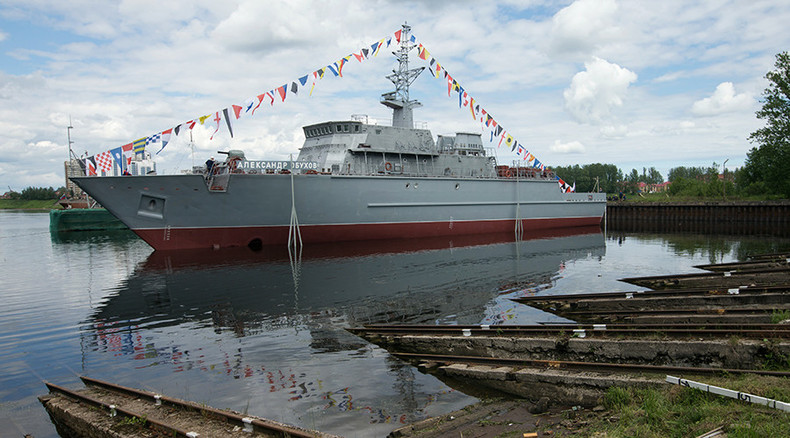 Latvia's National Defense Forces say a Russian naval ship was spotted nine kilometers from the country's territorial waters.
According to the Latvian military's official Twitter feed, the vessel was a Russian mine launcher, the Aleksandr Obukhov, which had entered the country's exclusive economic zone, an area stretching some 200 nautical miles from its shores.
READ MORE: 'Winning the Cold War with propaganda': New Dutch-Polish 'content factory' to challenge Russia
The ship, towed by a Russian Navy tug, the Viktor Konieckiy, was observed five nautical miles (nine kilometers) from the Latvian border, which begins some 12 nautical miles from the Latvian coast.
LVA Armed Forces on 2 AUG in LVA EEZ 5nm from terit. waters spotted RU Navy's tug Viktor Konieckiy towing minelayer Aleksandr Obuhnov.

— NBS (@Latvijas_armija) August 2, 2015
The Russian Defense Ministry hasn't provided any information on the incident yet.
On Saturday, the Latvian military also reported that another ship belonging to the Russian navy, the Dimitrovgrad 825, was seen three nautical miles from the country's territorial waters.
In addition, at the end of July, Latvia's Armed Forces are said to have spotted twelve Russian military aircraft "over the international waters of the Baltic Sea near Latvia's external sea border."
READ MORE: US deploying 250 military vehicles 'incl. Abrams tanks' near Russian border
The Russian military rarely comments on such reports. The most recent statement was made back in January when, after similar incidents, Russian Ambassador to Latvia Aleksandr Veshnyakov insisted that "all flights of the Russian Air Force and the movements of warships are made in strict accordance with international legal norms."