US deploying 250 military vehicles 'incl. Abrams tanks' near Russian border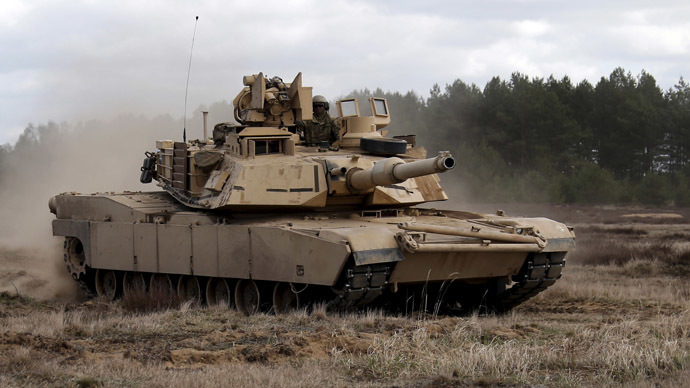 Washington plans to station hardware, including tanks and armored vehicles, in a number of European countries, Defense Secretary Ash Carter announced on Tuesday. Nukes withdrawn in the 1980s will not return to Europe.
Bulgaria, Estonia, Latvia, Lithuania, Poland, and Romania will be hosting the new hardware, and it will be possible to move it around for exercises, Carter said as he stood with his Estonian, Latvian and Lithuanian counterparts on a visit to Tallinn.
READ MORE: 'Most aggressive since Cold War': Russia may beef up border if US arms stationed in E. Europe
The hardware will include Abrams battle tanks, Bradley fighting vehicles and self-propelled howitzers. "Their purpose is to enable richer training and more mobility to forces in Europe," Carter told a news conference.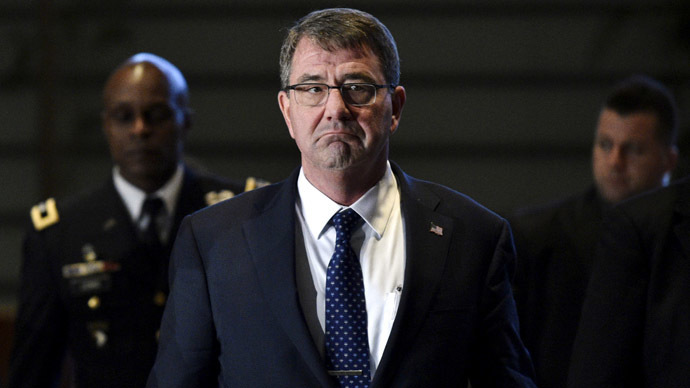 However, his colleagues made it clear that putting more American hardware close to Russia's borders is a message to Moscow. "In global terms Russia is no match conventionally to US or to NATO, but here in our corner of the world, Putin believes that he enjoys regional superiority," Estonian Defense Minister Sven Mikser said, adding that his country is ready and willing to host the vehicles immediately.
Romanian lawmakers have also approved the construction of two new NATO centers in the country's capital in a unanimous vote on Tuesday.
READ MORE: NATO plans 40,000-strong rapid response force in E. Europe
US and NATO allies have repeatedly slammed Russia for what they call "aggression," accusing it of being involved in the war in Ukraine. NATO recently announced plans to bolster its rapid response force in Europe to 40,000.
Last week Russia's President Vladimir Putin said Moscow would respond to NATO encroaching on its territories "accordingly."
"If someone threatens our territories, it means that we will have to aim our armed forces accordingly at the territories from where the threat is coming. How else could it be? It is NATO that is approaching our borders, it's not like we are moving anywhere," he said at a media conference.
However, Putin added, at the moment he could "see nothing that might prompt us" to take retaliatory measures. Moscow "will analyze everything" and stay alert.
Douglas E. Lute, the US Ambassador to NATO, believes American heavy weapons in Europe are not going to violate the NATO-Russia Founding Act, because military hardware will "only" be stored in Europe to facilitate military training and make them more effective, while also cutting back on logistics spending, RIA Novosti reports.
READ MORE: NATO conducting biggest beef up of defenses since Cold War – alliance chief
Lute also said the hardware will be placed in Europe without crews. Personnel will be rotated in and out as needed.
Washington is not considering re-deployment of nuclear weapons to Europe. They used to be stationed there some 30 years ago, the US permanent representative to NATO stressed. Nevertheless, Russia's Defense Ministry is worried that conventional heavy weapons will cause an escalation.
"If America's heavy arms, be it tanks, artillery systems or other heavy military hardware are deployed to Eastern Europe and the Baltic States, it will be the Pentagon's and NATO's most aggressive step since the end of the Cold War a quarter of a century ago," General Yury Yakubov, a senior Defense Ministry official, was quoted by Interfax as saying last week.
You can share this story on social media: