ISIS teaches children beheading techniques on dolls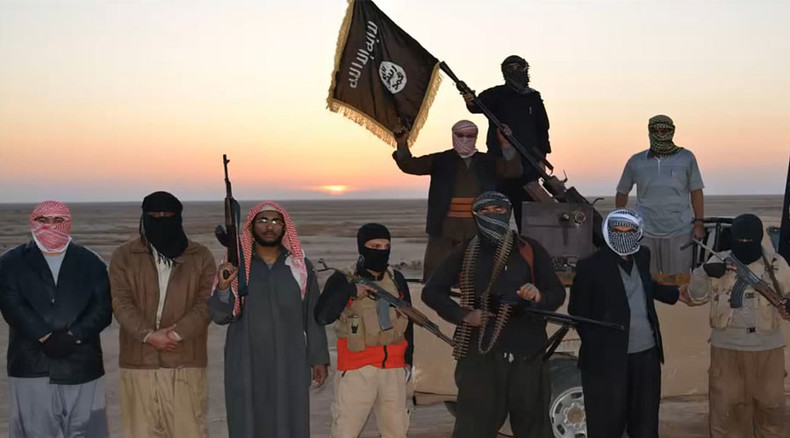 Hundreds of young boys kidnapped by Islamic State militants are shown the videos of beheadings and then forced to practice decapitation on dolls in the jihadists' special training camps for children, AP reveals in its investigation.
More than 120 boys, most of them Yazidis, abducted by Islamic State (IS, formerly ISIS/ISIL) were forcibly converted to Islam and trained to become jihadi fighters and killers, Associated Press reports with a reference to the interviews with Yazidi teenagers who fled IS camps.
The boys, some of them 8 years old, were reportedly shown the videos of executions performed by Islamic State and said they would do the same one day. After that they were ordered to practice the beheading technique as each received a doll and a sword.
"Then they taught me how to hold the sword, and they told me how to hit. They told me it was the head of the infidels," said a 14-year-old Yazidi boy, renamed Yahya by his IS kidnappers, in an interview to AP.
Before they fled, Yahya and his younger brother spent 5 months in the IS camp with other boys aged between 8 and 15, training from 8 to 10 hours each day studying Koran and learning how to fight and to shoot someone at a close range. Some exercises included boys beating each other.
"I was forced to do that. [The trainer] said that if I didn't do it, he'd shoot me," Yahya said. "They ... told us it would make us tougher. They beat us everywhere with their fists."
READ MORE:US-led coalition pounds ISIS-stronghold of Raqqa with leaflets
Yazidis are a Kurdish religious minority living in Northern Iraq who practice their own ancient Mesopotamian religion called Yazidism.
According to the UN report, after seizing the Yazidi settlements in June last year, Islamic State extremists executed thousands of adult men as "devil worshippers," turned Yazidi women and girls into sex slaves and gave them to the IS loyalists. As for the children and teenagers, the jihadists abducted hundreds of them and sent to the special training camps seeking to re-educate them and turn them into extremist fighters.
Such actions are a part of the IS policy aimed at creating a new generation of Islamist militants, erasing the children's past and replacing it with pure extremism, AP reports with a reference to the series of interviews with local residents in Syria and Iraq, which fled or still live under IS rule.
The extremists befriend children in the streets with sweets, cash, toys, gifts or intimidation, they brainwash the younger generation in schools and Mosques indoctrinating them with extremism and even turning them against their own parents.
Yahya said he was given a new Arabic name to replace his Kurdish one and was told that Yazidis are "dirty" and should be killed.
READ MORE:ISIS leader al-Baghdadi 'bans' slaughter videos, yet jihadists demonstrate beheading by kid

"They are planting extremism and terrorism in young people's minds," said Abu Hafs Naqshabandi, a Syrian sheikh in the Turkish city of Sanliurfa. "I am terribly worried about future generations," he adds, as quoted by AP.
According to Naqshabandi, IS mainly targets children on the territory the group controls, but even in refugee camps, the kids are still vulnerable to the militants' propaganda, as jihadists disguised as humanitarian organizations try to organize religious lessons or pay students to join them.
"They taught us to hate, this is what they teach," a 15-year-old former refugee camp witness of the IS indoctrination told AP.
The exact number of the IS children training camps still remains unknown, with jihadists claiming that there are hundreds of them.
READ MORE:Over 100 killed in Iraqi car blast, ISIS claims responsibility

As a result of such indoctrination, children who become involved in fighting and executions performed by Islamic State are being turned into killers called "Ashbal," Arabic for "lion cubs."
"By God, Obama and all those allied against the State, we will kill you. Who will? We lion cubs of the caliphate," a boy looking younger than 10 claims in a video released by Islamic State, as quoted by AP.
In another video issued last week, a boy who was allegedly younger than 13, was shown decapitating a Syrian army officer. On more IS video demonstrates 25 young boys shooting captured Syrian soldiers in the ancient Roman amphitheater in Palmyra.
A UK-based monitoring group called the Syrian Observatory for Human Rights reported that at least 1,100 children under 16 have joined IS in the last six month and has been sent to fight in Syria and Iraq.
At least 52 IS child soldiers already died in clashes and 8 more became suicide bombers, Syrian Observatory for Human Rights reports.
You can share this story on social media: