US-led coalition pounds ISIS-stronghold of Raqqa with leaflets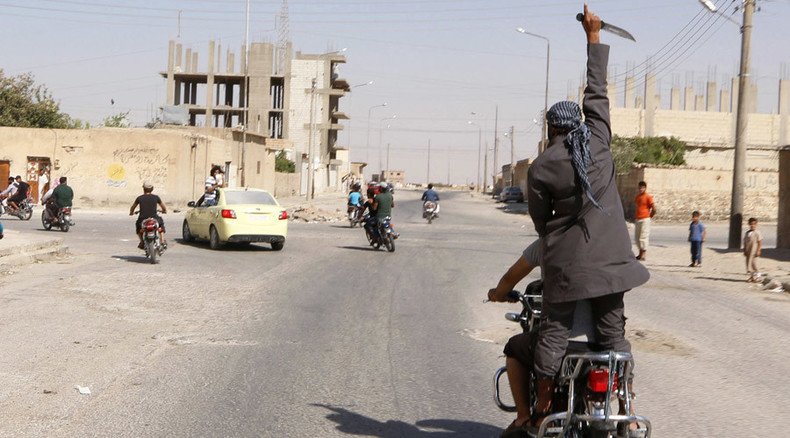 The Syrian stronghold of Islamic State, Raqqa, is to witness the arrival of freedom in the form of four gunmen slaughtering everyone in their wake, leaflets allegedly dropped by US-led coalition planes imply.
The propaganda leaflets were reported to have been dropped on the city on Sunday, a resistance group called 'Raqqa is Being Silently Slaughtered' reported. They depicted four fighters wearing insignia of the Kurdish militia walking down a road with dozens of blooded bodies of Islamic State (IS, formerly ISIS/ISIL) fighters lying down on sidewalks. The cartoonish picture has two words in Arabic saying "Freedom will come."
The US-led coalition fighting against IS already dropped propaganda leaflets to IS-held areas. One of them showed IS recruiters tossing young Arab men into a meat grinder.
The act of physiological warfare comes as fighters of Kurdish militia advanced as close as 50km towards Raqqa from northern Syria, AP reported.
The gruesome cartoons used by the coalition are a far cry from the brutality IS itself uses to promote their cause. The militants regularly release videos of executions of their captives. On Friday it published a video showing beheading of a Syrian army officer by a teen fighter.
The air campaign over the weekend also bombed several targets, including tactical units, tunnels, buildings and weaponry in six Iraqi cities, the Combined Joint Task Force said in a statement on Sunday. Six of the strikes were delivered in Ramadi. In Syria, the coalition conducted eight strikes around Hasakah and a ninth in Raqqa.
The militants on Friday carried out truck bombing of a crowded market in Iraq's eastern Diyala province, killing 115 people. On Sunday, a series of bombings killed at least eight people and injured some two dozen others.
You can share this story on social media: