Over 100 killed in Iraqi car blast, ISIS claims responsibility
Published time: 18 Jul, 2015 03:02
Edited time: 18 Jul, 2015 19:22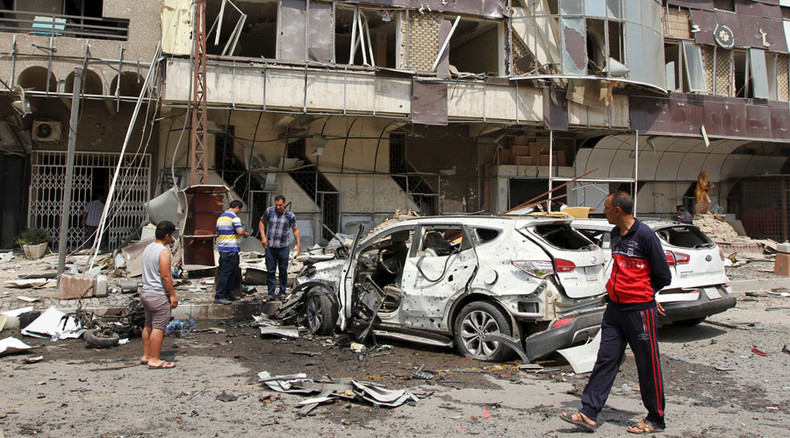 The death toll from a suicide car explosion at a busy market northeast of Baghdad climbed to over 100 people, including children, Reuters cited police and medical sources as saying. Islamic State took responsibility for the deadly terror act.
Police Major Ahmed al-Tamimi described the incident as "devastating," adding that some people had used "vegetable boxes to collect children's body parts."
It was reported earlier that 80 people had been killed in Khan Bani Saad, about 30 kilometers from the capital.
Twitter accounts linked to Islamic State (IS, formerly ISIS/ISIL) claimed the attack targeted "rejectionists," which is how the group refers to Shiite Muslims, adding that it was revenge for the deaths of Sunni Muslims in the northern Iraqi town of Hawija.
READ MORE: 'This will not be quick': Obama on Islamic State strategy
The extremist group also said that the suicide bomber had been carrying around three tons of explosives.
The power of the blast completely destroyed several buildings, crushing people to death under the rubble, according to police and medics.
The timing of the blast was devastating, as Muslims are celebrating the Eid-al-Fitr holiday marking the end of the holy month of Ramadan. An angry mob formed following the explosion, smashing the windows of parked cars.
One of the officers said that rescuers were still recovering bodies from under the debris, indicating that the death toll could rise further.
READ MORE: Naval Terror: ISIS says it hits Egyptian patrol ship near Mediterranean coast
The provincial government of Diyala announced a three-day period of mourning and closed all local attractions, including parks, citing security reasons.
IS currently controls about one-third of Iraq and Syria, including Iraq's second-largest city, Mosul. A recent report by the UK-based Syrian Observatory for Human Rights says that IS militants used chemical weapons while shelling a Kurdish village in late June, in what is said to be the first well-documented case of such an attack against Kurds. Reports of IS militants using toxic substances such as chlorine gas in warfare began to appear after the jihadists seized a major former Iraqi chemical weapons plant last June.
READ MORE: ISIS used chemical weapons against Kurds – monitor