Naval Terror: ISIS says it hits Egyptian patrol ship near Mediterranean coast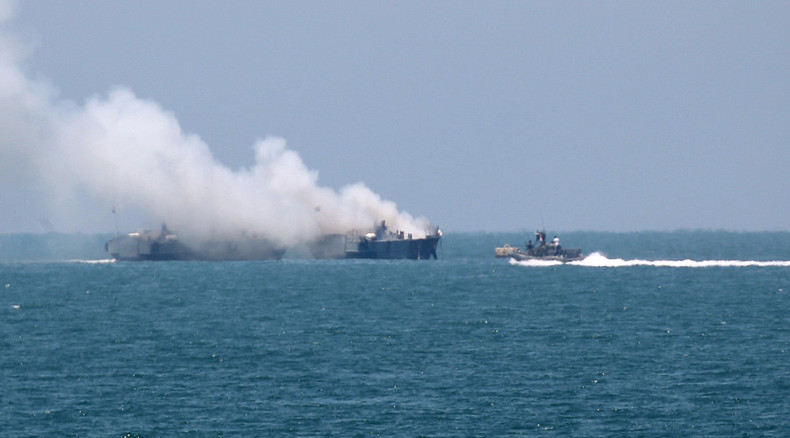 The ISIS has claimed its responsibility for a guided missile attack against an Egyptian navy vessel which was set ablaze. Egypt confirmed the attack but did not give details about the incident.
Huge fireball and then black heavy smoke over the sea were seen at the scene of attack on the Egyptian patrol ship.
"We were sitting on the beach and suddenly there was an explosion," said a witness of the incedent Ahmed Nofal, cited by the Daily mail.
The incident happened near the border with Israel and the Gaza Strip. An AFP photographer who was on the Palestinian shore also witnessed the shooting and said that other navy ships rescued people from the hit vessel. The Egyptian military said in a statement that there are no fatalities among the vessel's crew.
The claim of ISIS responsibility for the attack comes from several Twitter accounts which are known to belong to members of the terrorist organization.
If this is officially confirmed, it will become the first maritime attack of the Islamic State and its allied militant groups.
On July 1, one of the most active Islamist organization in the region called Wilayat Sinai (also known as Province Sinai), which had pledged loyalty to the ISIS, launched a large scale battle on the peninsula. As a result about 20 Egyptian soldiers and about 100 militants were killed.
The Islamic state also claimed responsibility for another recent attack when a car exploded near the Italian consulate in Cairo. This act of terror killed one person, several others were injured.
READ MORE: ISIS claims responsibility for blast at Italian consulate in Cairo
Sinai insurgency began in 2011 after President Hosni Mubarak had been toppled and the country faced a period of instability. The conflict escalated in 2013 when Islamist president Mohammed Morsi was overthrown by army chief General Abdel Fattah Sisi.