ISIS claims responsibility for blast at Italian consulate in Cairo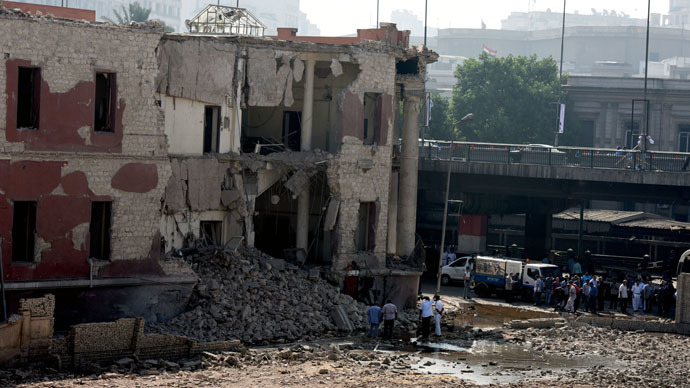 The Islamic State has claimed responsibility for a car bomb attack on Saturday at the Italian consulate in the Egyptian capital, Cairo, in which one person was killed and at least nine injured.
"Through God's blessing, Islamic State soldiers were able to detonate a parked car bomb carrying 450 kg of explosive material on the headquarters of the Italian consulate in central Cairo," Islamic State (IS, formerly ISIS/ISIL) said on its Twitter account.
The terrorist group said they "recommend that Muslims stay clear of these security dens because they are legitimate targets for the mujahedeen's strikes."
A car parked near the Italian consulate blew up on Saturday morning, killing one person and injuring nine others, including two police officers.
None of the Italian staff of the consulate were injured as the establishment was still closed at the time of the explosion which took place at 6:30am local time (4:30am GMT), an Italian embassy official told AP.
Italian consulate explosion in #Cairo#Egyptpic.twitter.com/xLD3vMd9Dc

— Walt Curnow (@Walt_Curnow) July 11, 2015
The explosion partially destroyed the facade of the consulate building, while the nearby Supreme Court was shaken by the blast.
"There are no doubts that the Italian consulate was the target. It was an attack aimed against Italy, the country, which resists terrorism," Paolo Gentiloni, Italian Foreign Minister, said as cited by Sputnik news agency.
On his Twitter account, he stressed that "Italy will not be intimidated" by the attack against the consulate.
حشود في موقع الحادث والشارع غارق بالماء بعد تسبب الانفجار في كسر ماسورة مياه بالمبنى pic.twitter.com/mbIQWagjag

— Omar Elhady (@O_Elhady) July 11, 2015
Italian Prime Minister, Matteo Renzi, stressed that Rome and Cairo would continue working to cooperate in terms of countering terrorist activity.
His Egyptian counterpart, Ibrahim Mehleb, said the country is at war with terror and urged international assistance.
"The time has come for the world to unite in facing terrorism, which now threatens the entire world," Mehleb is cited by Al-Ahram newspaper.
الصور الأولية التي توضح قوة الإنفجار الذي استهدف السفاره الإيطالية في العاصمة المصرية القاهرة . #انفحار_القاهره#مصرpic.twitter.com/RCUDFl9ZuA

— أحمد العنزي (@a7mad751) July 11, 2015
A bomb might have been placed under a car and remotely detonated, according to preliminary investigation results, MENA news agency reported.
Sources in Egyptian prosecutor's office told local Masrawy news website that the type of explosives used on Saturday was similar to last week's deadly attack on the country's prosecutor general.
Before IS confirmed that the Italian consulate was their target, the investigators suggested that the blast could have actually been aimed at a nearby police post.
The Egyptian government is fighting against Islamist groups after a 2013 military coup ousted President Mohamed Morsi.
The violence is mostly localized in the turbulent Sinai Peninsula, but bombings and attacks on security checkpoints occasionally happen in other parts of the country.
police keeps asking us why we were here and how we could get here so fast. in meantime egyptian journalists are still allowed to walk arnd

— alessandro accorsi (@ali_burrasque) July 11, 2015
صورة اخرى من تدمير السفارة الايطالية منذ قليل بشارع #الجلاء بوسط البلد فى #القاهرة بعملية استهداف ارهابية pic.twitter.com/w3zEOrG0Vp

— بندر الحربي (@6777Stalin) July 11, 2015