Prankster Lee Nelson throws dollars at Blatter, delays FIFA press conference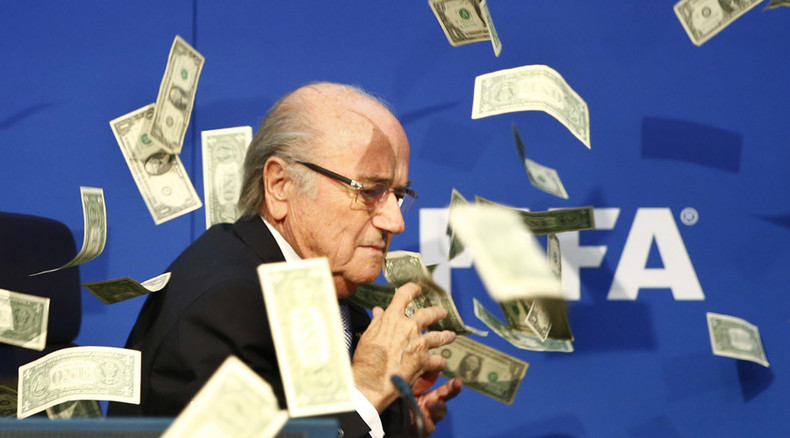 An English comedian, Simon Brodkin (aka Lee Nelson), has entered FIFA press conference and showered Sepp Blatter, the now ex-president of the world soccer body, with dollar bills.
The intruder was immediately escorted by security officials from the press conference, social media reports say, adding that the banknotes that showered Blatter were fake.
Blatter looked embarrassed and said that the incident "has nothing to do with football."
Lee Nelson, whose real name is Simon Brodkin, is famous for his pranks before an audience. He earlier interrupted the performance of American rapper Kanye West when he ran on the stage, as well as Stereo Kicks' performance on 'The X Factor'.
The comedian's stunt postponed Blatter's speech for several minutes. Later the conference resumed.
Earlier on Monday FIFA announced that the election of a new president of FIFA will be held on February 26, 2016, in Zurich.
World soccer's governing body tweeted on Monday that an "extraordinary elective congress" with all 209 member associations invited will decide on the next president.
READ MORE: Blatter to quit as FIFA president, calls special congress to elect successor
Blatter announced on June 2 that he was standing down, four days after winning a fifth term at a congress overshadowed by FIFA corruption scandal.
World football's governing body was rocked by a massive corruption scandal on May 27, when senior football officials were arrested in a luxury Zurich hotel.
Fourteen officials, who were linked to FIFA were accused of bribery, fraud and money laundering.