Pro-ISIS pilots operated commercial flights in Indonesia – leaked report
Published time: 11 Jul, 2015 21:12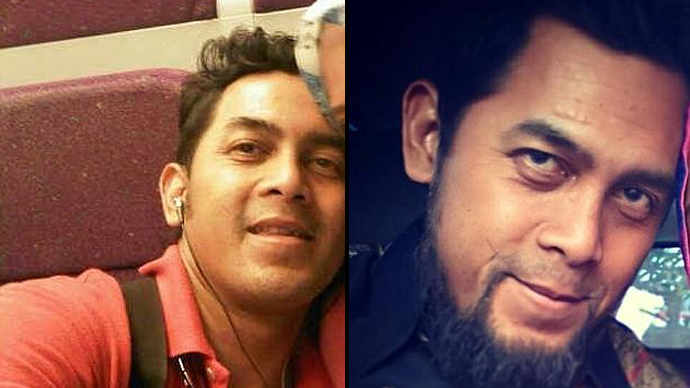 Two former pilots for Indonesian airlines were found to have been radicalized by Islamic State after they expressed sympathy for the jihadist group online, while still performing passenger flights, a leaked Australian police report said.
Ridwan Agustin, who worked for Air Asia Indonesia, and his colleague from Premiair airline, Tommy Hendratno, fell under the allure of Islamic State (IS, formerly ISIS/ISIL) in mid-2014, the document obtained by the Intercept website said.
The report entitled "Identification of Indonesian pilots with possible extremist persuasions" was distributed by the Australian Federal Police to partner agencies in the US, UK Turkey, Jordan as well as the Europol.
"Both [pilots] appear to be influenced by pro-IS elements including extremist online propaganda by well-known radical Indonesia outlets and a suspected Indonesian foreign terrorist fighter who is likely to be in either Syria or Iraq," the document said.
Agustin and Hendratno began leaving positive comments under photos showing alleged terrorists posing with weapons in a conflict zone.
They also befriended other pro-IS profiles, including those by Indonesians, who went to Syria and Iraq to fight for the terror group.
The pilots changed their profile names to Ridwan Ahmad Indonesiy and Abu Alfatih Hendratno, expressing interest in joining IS themselves.
The photos on their pages also documented how their appearance over the last months changed under the influence the IS ideology, the report said, with both men growing jihadist-style beards.
In March 2015, Agustin posted his location on social media as Raqqa in Syria, a city proclaimed to be the capital of IS-held territories.
READ MORE: 2,200 jihadists from Russia fight in Syria, Iraq – Russian Foreign Ministry
The leaked police report pointed out the extreme dangers, which a radicalized pilot could pose to international security.
"Pilots, air crew and others with access to and within the aviation environment can pose obvious threats if these persons are radicalized. Their access and knowledge of security and safety regimes provides the ability to attempt attacks as witnessed by past global events," the report warned.
In the paper, the Australian police also stressed that terrorist propaganda has been recently encouraged attacks by those involved in aviation.
RT contacted Air Asia Indonesia, where Agustin worked, with the company only saying that the man is no longer employed there.
Premiair responded by saying that Hendratno had left the company in June, three months after the Australian report was issued.
Former commercial pilot Mark Weiss told RT that the "numbers that radicalized are certainly a lot greater than the two that we already know about" as there are tens of thousands of pilots around the globe.
"Pilots and flight attendants get a certain level of training that provides them with the inside knowledge on how to protect an aircraft and its passengers and crew. But conversely it also points out areas of weakness," he stressed.
"The real troubling part about it is that there's no definitive way to stop this. It's really going to be a matter of trying to out up nets around everything," Weiss added.
READ MORE: Al-Qaeda cleric linked to Tunisian terror attack living in UK on benefits – report
Trust in pilots has been shaken for airline passengers in recent years by a few incidents where cockpit crews have deliberately caused disasters.
In March, Andreas Lubitz, who suffered from severe depression , downed a Germanwings plane in the Alps, killing 149 people.
In November 2013, investigators concluded that a Mozambique Airlines pilot intentionally caused an accident, in which 33 people lost their lives.
Security expert, Binoy Kampmark, said that danger that a plane may be used as "very dangerous weapon" is real.
"Aviation industries have very strict recruitment, screening and vetting procedures. You can't really go much more than that. But unfortunately, you have to always realize that there will be instances where people will also get through," Kampmark told RT.