​Italian ISIS convert defends beheadings as part of Sharia law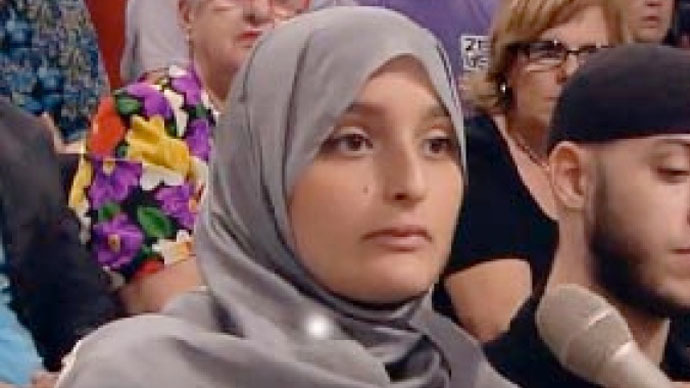 A 28-year-old Italian woman who joined Islamic State last year has called the self-proclaimed caliphate a "perfect country" and defended the brutal beheadings conducted by the militant group.
In a Skype interview with Corriere della Sera, Maria Giulia Sergio – dubbed 'Lady Jihad' by the Italian press – said the group is merely obeying Sharia law when it beheads its victims. She also claimed that the group respects human rights.
Reporters were unable to see Sergio's face, but said they recognized her voice, thanks to wiretaps captured by Italy's anti-terror police squad.
#Obama on #ISIS strategy: 'This will not be quick' http://t.co/jhkLEGP0HWpic.twitter.com/w4rpWCN9Vw

— RT (@RT_com) July 7, 2015
Sergio, who changed her name to Fatima Az Zahara after converting to Islam, left for Syria last September after marrying her Albanian husband.
She immediately took up weapons training, while her husband was dispatched to an Islamic State (IS, formerly ISIS/ISIL) training camp.
The 28-year-old said she tried to persuade her parents to join the group, because it could provide them with a good life.
That coaxing was successful – her parents and sister, also Muslim converts, were taken into custody last week.
They were arrested after selling their furniture and requesting passports for "organizing a journey for terrorist ends" – a newly-introduced offense which was applied for the first time in this case.
However, Sergio said the conversations she had with her family since joining IS did not involve inciting terrorism.
Five members of her husband's family were also arrested last week.
'Lawful' to wave ISIS flag on Parliament Square – Metropolitan Police http://t.co/W8DFTaMr9Kpic.twitter.com/hbQJBWypMd

— RT (@RT_com) July 7, 2015
The 28-year-old has denounced the arrests, calling the police operation a failure.
Her defense of beheadings come just one week after IS militants reportedly performed the act for the first time on women, with two falling victim.
Sergio isn't the first to dote on the alleged benefits of the militant group's self-proclaimed caliphate. In May, the group released a 'tourist guide' which compared IS-controlled territories to a "plush holiday resort."
In February, the group published a 50-page e-book offering would-be jihadists advice on how to reach Syria to join the group.
Israel arrests teachers for 'spreading #ISIS propaganda' http://t.co/ec367tFREGpic.twitter.com/bZHj1JYPzI

— RT (@RT_com) July 7, 2015
IS has been successful in recruiting hundreds of women. Up to 550 females from around the world are believed to have traveled to join the militant group in Syria and Iraq, according to the Institute for Strategic Dialogue.
In May, the Institute tracked more than 100 female recruits and their nationalities through online platforms. The vast majority were British, and the average suspected age was 16.
Meanwhile, reports of the militant group's atrocities continue to emerge, including the rapes of women and teenagers – some of whom are reportedlysoldin slave markets "for as little as a pack of cigarettes."