#Dressgate 2.0: Bulgarian banner mistaken for Russian flag in Kiev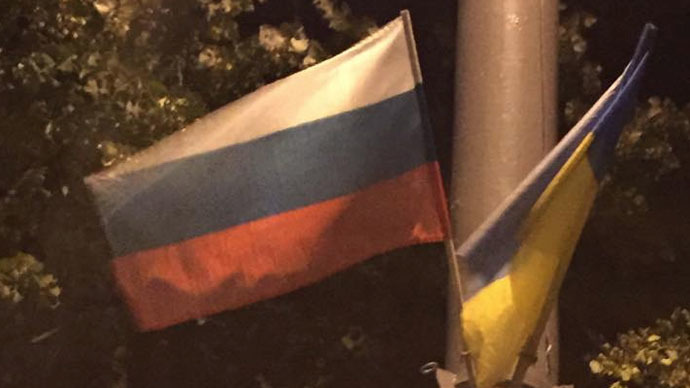 Ahead of the visit of the Bulgarian president to Ukraine, Kiev was decorated with the two countries' national flags. However, pictured at twilight, the Bulgarian flags were mistaken for Russian ones, sparking controversy over social networks.
The mistake, totally unthinkable for Ukrainian nationalists, was 'flagged' by Dmitry Linko, a Ukrainian MP from the Radical Party and an active participant in the so-called anti-terrorist operation in the Donbass region.
"They are hanging out flags of Ukraine and Bulgaria in downtown Kiev right now. Well, I took a look at them and I want to ask: are you sure this flag is the Bulgarian one? What do you think?" the radical MP asked on Facebook, publishing a photo of what he claimed to be a Russian flag flying alongside the Ukrainian one.
The 'substitution error' can't be blamed on the responsible staff's short sightedness or an intentional prank. The 'flag issue' is actually about visual perception and the mastery of the photographer, who took the photo in poor lighting condition.
The flags of Russia and Bulgaria are similar, but the middle stripe is blue on the Russian national flag and green on the Bulgarian.
The photo of the flags was taken during twilight, which in the absence of true daylight turned the green color to blue. This accounts for the uproar in the Ukrainian sector of Facebook.
In March, a photo of a dress taken in February caused #DressGate social networks around the globe to explode, as people divided into two opposing groups regarding the color of the dress.
Who remembers #DressGate? Lulz - don't hate me :) pic.twitter.com/B0fJHu8aCG

— Peter Syravong (@petersyravong) April 25, 2015
Bulgarian President Rosen Plevneliev is paying a visit to the Ukrainian capital, where he is expected to meet the Rada Speaker Vladimir Groisman on Tuesday. There have been no further reports about 'false flags' fluttering on the streets of the Ukrainian capital so far.
However, a year ago the Ukrainian authorities did make a real blunder with foreign national flags. In April 2014, an official visit by Switzerland's president to Ukraine started off on the wrong foot as the country's coup-imposed authorities greeted him with a Danish flag instead of a Swiss one.
READ MORE: Oh, that awkward moment: Ukrainian PM greets Swiss president with Danish flag