Oh, that awkward moment: Ukrainian PM greets Swiss president with Danish flag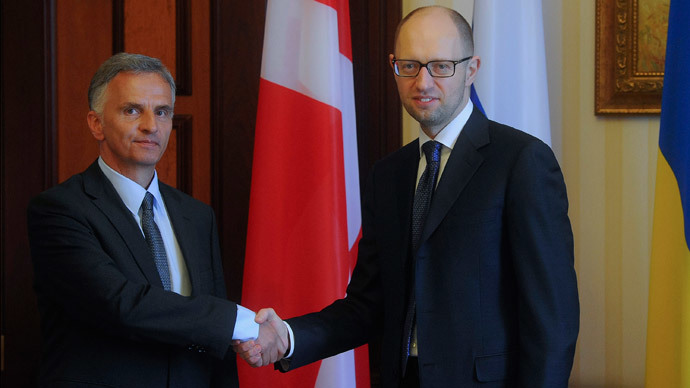 An official visit of Switzerland's president to Ukraine has kicked off with a diplomatic blunder as the country's coup-imposed authorities greeted him with Danish flag instead of the Swiss.
It was Swiss president, Didier Burkhalter, who pointed the mistake out to prime minister, Arseny Yatsenyuk, during their meeting on Monday.

However, Burkhalter was kind enough to treat the incident as a joke, the Swiss media reports.
that moment when visiting Swiss president tells Ukraine President he put up the Danish rather than Swiss flag pic.twitter.com/YinyQFnynU

— petromatrix (@petromatrix) April 14, 2014
The flags of Switzerland and Denmark share the same red and white colors and a cross. However, the shape of the two flags and the crosses on them are different.

According to Swiss Federal Department of Foreign Affairs, Burkhalter is visiting Kiev to "underscore the constructive role played by the OSCE in the Ukrainian crisis and the organization's intention to step up its efforts to contribute to de-escalating the tensions in the country."

After holding talks with Yatsenyuk and Ukraine's foreign minister, Andrey Deshchitsa, and the Swiss president will travel to the port city of Odessa where pro-Russian moods are currently on the rise.