​Bahrain to get more US arms as authorities keep cracking down on protestors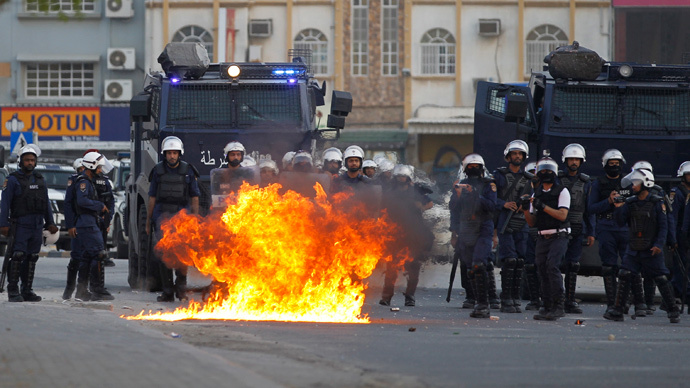 Washington has resumed military aid to the Bahraini government. The move was criticized by human rights groups, which say it takes place "in the absence of any real or meaningful political reforms" and amid numerous human rights abuses.
"The administration has decided to lift the holds on security assistance to the Bahrain Defense Force and National Guard that were implemented following Bahrain's crackdown on demonstrations in 2011," the US State Department's John Kirby said in a statement.
He added that the Bahraini government has made "some meaningful progress on human rights reforms and reconciliation."
READ MORE: Key Bahraini opposition figure handed 4yr jail term
The restoration of military aid to Bahrain comes two weeks after a court sentenced Shiite opposition leader Sheikh Ali Salman to four years in prison. He was convicted of insulting the Interior Ministry and of inciting others to break the law in the aftermath of the 2011 uprising.
The 49-year-old was the secretary-general of the Al-Wefaq opposition group when he was arrested in late December.
Bahrain has been accused by human rights groups for brutally clamping down on protesters, with the government in Manama using harsh counterterrorism laws to prosecute human rights activists.
READ MORE: 'I could be arrested any moment' – Bahraini opposition activist Nabeel Rajab to RT
The government also repeatedly persecuted Nabeel Rajab, the world-renown human rights activist and president of the Bahrain Centre for Human Rights (BCHR). The authorities arrested him in January for sending an "insulting tweet." In a tweet posted in September, he suggested that Bahraini security institutions could act as an "ideological incubator" for terrorism and Islamic State militants.
The US decision to resume sending weapons was met with criticism from human rights groups.
"There is no way to dress this up as a good move," Brian Dooley from Human Rights First, adding that "it's bad for Bahrain, bad for the region and bad for the United States."
HRF reaction to US govt lifting ban on weapons sales to #Bahrainhttp://t.co/XsoihaU5Ju@JacksonDiehl@MARYAMALKHAWAJA@APDiploWriter

— Brian Dooley (@dooley_dooley) June 29, 2015
According to Sarah Margon, Washington director of Human Rights Watch, "the Obama administration's decision to lift restrictions on security assistance to Bahrain's Defense Forces and National Guard is occurring in the absence of any real or meaningful political reform."
READ MORE: Amnesty condemns Bahrain's 'rampant' human rights abuses days before F1 Grand Prix
"Bahrain's jails are bursting at the seams with political detainees, and the recent prison sentence for political opposition leader Al Wefaq Secretary-General Sheikh Ali Salman means that a political accommodation remains as far away as ever," she added.
As expected, US lifts security assistance hold on #Bahrain despite absence of meaningful reform: http://t.co/8zYssSC8B9

— sarah margon (@sarahmargon) June 29, 2015
A small island kingdom, Bahrain is regarded as a strategic Gulf state, and it is the home base of the US Navy's Fifth Fleet.
READ MORE: #BahrainSchism: Anti-government protests break out after arrest of Shia opposition leader
Ruled by King Hamad, it was rocked by anti-government protests since 2011 by the majority Shiite Muslim population, calling for more freedoms in the Sunni-ruled country. The public uprising that rocked Bahrain at the time was brutally suppressed with the help of Saudi Arabia, which sent its troops to back the Bahraini regime.
The majority Shiite population of Bahrain complains of discrimination and a lack of democracy in the oil-rich kingdom, while the Sunni monarchy often accuses its archrival Iran – a Shiite powerhouse – of instigating unrest.
READ MORE: UK approves £5bn of arms exports to 'countries of human rights concern'
You can share this story on social media: