Almost 1,000 runners fall sick after 'mud race' in France
Published time: 25 Jun, 2015 13:13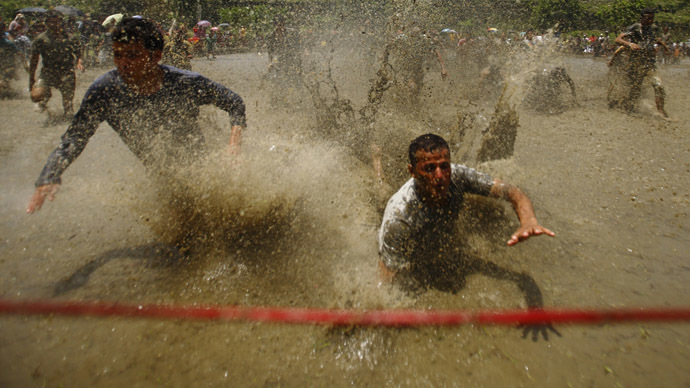 ​The number of participants in the Mud Day race in southern France, who have fallen ill since Sunday has mounted to around 1,000, and the reason may be bacteria in the mud, French media report.
The Mud Day (Nice France - French riviera) #themudday#captimages#photooftheday#instapic#face#streetstyle#str… pic.twitter.com/r8tP8HXXWF

— Street Tweets (@streetpicsnow) June 23, 2015
Almost 8,400 runners took part in Mud Day activities on 20 June in Nice on the French Riviera. Participants were involved in a challenging race, which requires mental strength and team work to overcome the many obstacles on the way. Apart from running, racers had to jump, crawl, slide and even swim through the mud.
READ MORE: E. coli contamination leads to recall of bottled spring water
However, positive highs from the extreme race turned into severe lows, as sickness struck. Specialists think the illness might be severe gastroenteritis caused by salmonella or bacteria living in the mud, which the racers might have swallowed accidentally.
Many participants reported such symptoms as fever, vomiting, abdominal pain and diarrhea. At first, the number of victims was around 30, but after a few days it soared to 580 and was lastly reported to be around 1,000, says the Local, citing French media.
Organizers of the Mud Day addressed participants on the event's web page on Monday, promising to do everything possible to determine the cause of the stomach upsets. They also reported there had been no need for hospitalization and all patients had returned home after treatment.
READ MORE: As MERS virus spreads, is WHO doing enough?
However, the regional health agency PACA called on victims to follow hygiene measures to limit the potential spread of germs. They suggested patients wash their hands thoroughly and dry them with disposable paper towels. They also advised against close contact with those around them, including children and vulnerable people until their symptoms had cleared up.