As MERS virus spreads, is WHO doing enough?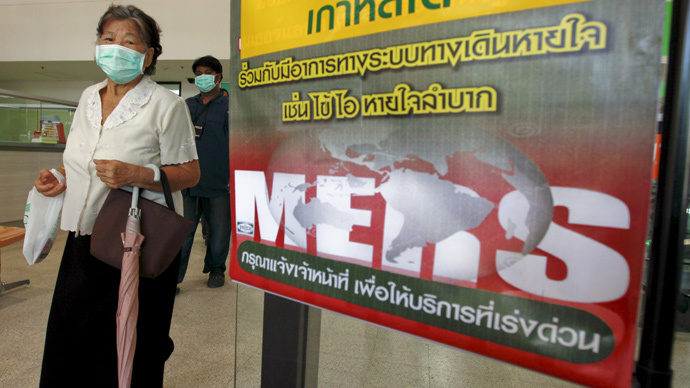 Thailand has become the fourth Asian country to confirm a case of the deadly MERS virus, which has killed 24 people in South Korea and over 450 people total since it was first identified in humans in 2012.
The World Health Organization has called the spread of Middle East Respiratory Syndrome to the Far East a "wake-up call," but has not yet declared it to be a global emergency. WHO, a special agency of the UN, has done some excellent work since its creation in 1948. However, as they themselves have admitted, they have got things wrong before.

Most recently, their slow response to the 2014 Ebola outbreak was widely criticized.
Despite warnings from groups such as Medecins Sans Frontieres (Doctors Without Borders), WHO did not declare Ebola a public health emergency until August 2014 – several months after the first cases and after the fatality rate had topped 1,000.

To date, at least 11,178 people have died from the current outbreak of the disease in six countries, with the total number of reported cases now standing at more than 27,000.
READ MORE: German MERS patient dies from 'subsequent' lung disease - after previously recovering
Confronted with MERS, however, WHO has been quicker to convene meetings of the Emergency Committee. But already questions are arising regarding their handling of the situation. While stressing that "close monitoring of the situation remains critical," WHO, at this week's IHR Emergency Committee meeting on MERS, did not recommend any travel or trade restrictions – or call for screening at points of entry.

Could they be guilty of underplaying the seriousness of the situation? The problem about MERS-CoV is that there is so much about the virus that we don't know – as even WHO acknowledged in its statement.

The Committee noted that there are still many gaps in knowledge regarding the transmission of the virus between people, including the potential role of environmental contamination, poor ventilation and other factors, and indicated that continued research in these areas was critical.

As for the origins of the virus, for which there is no available vaccine, one theory says that it originates in bats, yet the first human case was traced to an infected camel.
Moreover, symptoms of the virus - fever, coughing and shortness of breath can easily be confused with other illness. MERS-CoV comes from the same family of viruses that produce the common cold, and someone with MERS at least in the early stages could think they are coming down with a bad does of flu.
The first South Korean case, handled at the Samsung Medical Centre in Seoul, involved a 68-year-old man who had travelled from the Middle East. He was misdiagnosed as having a case of pneumonia.

Meanwhile, it took Thai health officials four days to confirm their first case that involved an elderly man who had flown into the country from Oman. Now the Thai authorities are trying to trace the people who travelled on the same plane as the infected man, having thus far contacted 60 of them.
READ MORE: S. Korea pledges $45.2 mln to fight MERS as death toll reaches 19
South Korea's response to the outbreak -at least in its early stages - has come on for heavy criticism. The media attacked the government for not acting quickly enough and 'unrealistically' playing down the outbreak and its dangers.

The Korean people seem to agree as the approval ratings of President Park Geun-hye have plummeted from 43.4 percent on May 18th to less than 30 percent today. Overcrowded hospitals, inadequate isolation facilities and the practice of 'doctor shopping'- by which Koreans go from hospital to hospital if they're not happy with their treatment - has helped to spread the virus.

No one can accuse the South Korean government of not taking the outbreak seriously enough now. Around 6,700 people are currently in quarantine, including the 100 or so inhabitants of a single village. Earlier this week it was reported that the South Korean government had authorized the use of over $45m in reserve funds to help deal with the health crisis the country currently faces.

At present, it's hard to say how things will develop. Today, the Chief policy official of the South Korean health ministry has said that the outbreak has 'leveled off,' but warned that there was a need to 'watch further spread'.

If worse comes to the worse, and MERS does become a global public health emergency, how well could the authorities deal with a deadly virus for which there is no vaccine?

"If a global pandemic were to strike tomorrow, there is still no well-resourced, coordinated international response in place to kick in,"warns Dr Joanne Liu, International President of Medecin sans Frontieres.
READ MORE: 2 die, 25 infected with MERS respiratory illness as nearly 700 isolated in S. Korea
Meanwhile, WHO itself has been experiencing a funding crisis, as its budget has been slashed by around $1billion, and its outbreak and diseases budget was halved between 2012-13 and 2014-15, and a further reduction is planned for 2016-7.
Staff levels have been drastically cut. The organization has around 35 percent fewer employees than in 2009, and the WHO's Pandemic and Epidemic Disease Department has just 52 regular employees.
At a time when WHO needs more resources, it is having to make do with less. A world which spends billions on arms, but which is cutting the money for global health emergency funding, has got a strange sense of priorities.
The fact that we don't yet have a vaccine for MERS is also scandalous. The problem is that the big privately owned pharmaceutical companies don't know how much profit there would be in it - bearing in mind the research that would be needed - and governments (many of whom are restrained by austerity programs), don't seem too keen to foot the bill either.

"The question is: How long are we going to wait around and just follow these outbreaks before we get serious about making vaccines?" Professor Adrian Hill of Oxford University's Jenner Institute told Reuter's.
Once again, profit concerns are getting in the way of what needs to be done for the good of humanity. It's been estimated that it would cost around $1bn to find a cure for MERS- a very small sum indeed when you consider how global military expenditure stands at around $1.6 trillion, while the US has a defense budget of $585bn for 2016.

Clearly, the funds are there to fight, contain and find cures for deadly diseases like MERS and to make sure there is an adequate response to such outbreaks. We just need to get our global priorities right.
The statements, views and opinions expressed in this column are solely those of the author and do not necessarily represent those of RT.
The statements, views and opinions expressed in this column are solely those of the author and do not necessarily represent those of RT.
You can share this story on social media: