2 die, 25 infected with MERS respiratory illness as nearly 700 isolated in S. Korea
Published time: 1 Jun, 2015 14:41
Edited time: 1 Jun, 2015 20:55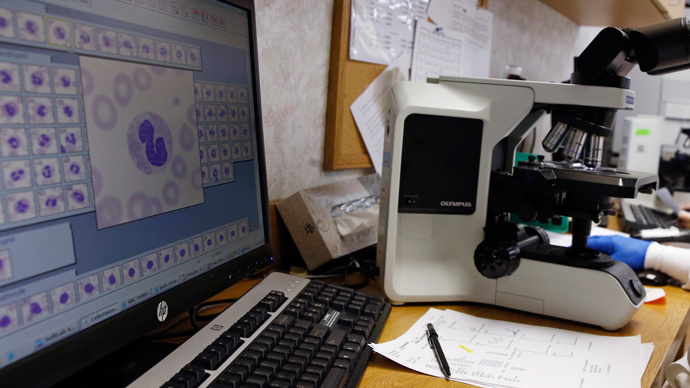 Two people have reportedly died from Middle East Respiratory Syndrome in South Korea, becoming the first lethal cases in the current outbreak. At least 682 people, who had come into contact with those infected with MERS virus, were previously isolated.
A 58-year-old woman, who passed away on Monday, became South Korea's first fatality related to the Middle East Respiratory Syndrome after testing positive for the virus, the Health Ministry said.
The female, whose identity has been withheld, was listed as a suspected case after coming into contact with the country's first MERS patient, a 71-year-old male, who also died.
The health authorities announced six more cases of the virus on Tuesday, bringing the number of afflicted people to 25.
The new cases included South Korea's first tertiary infections, as two of the patients had contracted the virus from a secondarily-infected patient, the ministry added.
At least 682 people, who had contact with these patients, both family members and medical staff who treated them, are in isolation in their homes or in quarantine facilities to prevent the spread of the disease, Health Ministry official Kwon Jun-wook told reporters.
South Korean President Park Geun-Hye has slammed health officials for their "insufficient" response to the virus outbreak.
"The initial response to MERS... was insufficient," Park said, calling to increase government efforts to prevent any further spread of the virus.
READ MORE: 385 die of MERS virus in S. Arabia, UN sends investigative team
Her statement comes a day after the country's health minister, Moon Hyung-Pyo, officially apologized for failing to curb the epidemic.
"We apologize for causing concern and anxiety among people due to... our initial judgment on the contagiousness of MERS," he told reporters.
Health officials were particularly criticized for allowing an infected man to travel to China on a business trip despite doctors' warnings. A 44-year-old, who contracted the virus from his father, flew to Hong Kong before traveling on to the city of Huizhou in southeastern China. He is currently under quarantine in the city.
According to the European Center for Disease Prevention and Control, South Korea has the highest number of confirmed MERS cases, after Saudi Arabia, United Arab Emirates and Jordan.
MERS, a respiratory disease, can lead to pneumonia and kidney failure. A typical case involves shortness of breath, fever and coughing. It can cause respiratory failure that requires mechanical ventilation and support in intensive care. Up to four of every 10 MERS sufferers have died.
The virus appears to cause more severe damage to those with weakened immune systems: the elderly and those with chronic diseases, such as diabetes, cancer, and chronic lung disease. It's not yet clear how exactly the contamination takes place.
Importation of a case of MERS-CoV to a third country is not unexpected and has happened; poses low risk to EU https://t.co/dCuonCZ9u0

— ECDC (@ECDC_EU) May 30, 2015
In some cases, the virus appears to pass from an infected person to another person in close contact. Recently, there have been an increased number of reports of healthcare associated infections, according to the World Health Organization (WHO).
The virus was first identified in humans in 2012 in Saudi Arabia and by February 2015 the death toll had reached 385. The country was highly criticized by WHO and others for dragging its heels on examining and tracking down the source of the MERS virus, and finding out how it infects people and passes from one person to another.
READ MORE: Saudi Arabia not doing enough to combat MERS – WHO
MERS is related to SARS, or Severe Acute Respiratory Syndrome, which has killed around 800 people globally after it first broke out in China in 2002.