E. coli contamination leads to recall of bottled spring water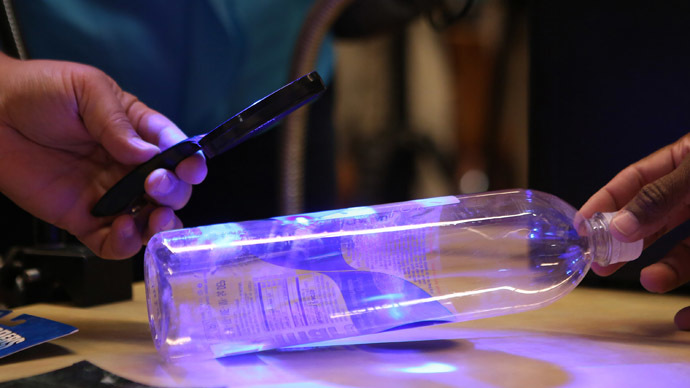 An E. coli scare has caused a voluntary recall of bottled water across much of the northeastern United States. Niagara Bottling LLC recalled 14 spring water products ‒ including 7-Eleven and Wegmans brands ‒ over fears of contamination from the bacteria.
The voluntary recall covers the 14 spring water products bottled at two plants in Pennsylvania, the company said. Niagara issued the recall after the operators at one of its contracted springs failed to notify the company that there was evidence of E. coli bacteria at the spring source.
"Niagara Bottling performs extensive testing on both incoming spring water as well as finished products. We have confirmed there have been no issues or E. coli contamination of any kind detected in our finished products or in the spring water that was delivered to our bottling facility," the company said in a statement.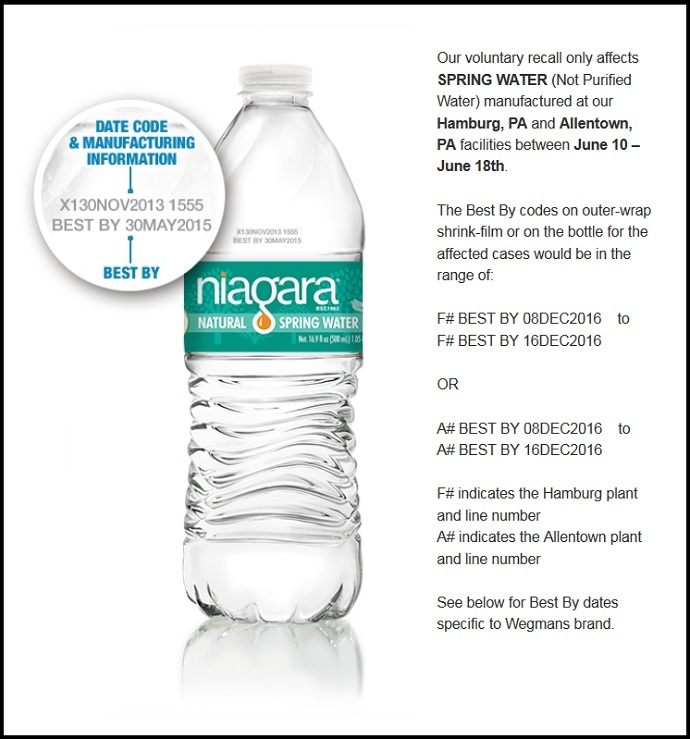 "Even if it had been present in the incoming spring water, we utilize quality systems and disinfection technology that would ensure that our product is free from contamination," Niagara Bottling said. "Despite this, once we were informed of the potential presence of E. coli at the spring source, we immediately shut down our operations, disinfected our bottling lines and initiated a voluntary recall in an abundance of caution and in the interests of consumer safety."
The 14 affected brands were bottled between June 10 at 3 a.m. ET and June 18 at 8 p.m. ET in either the company's Hamburg or Allentown manufacturing facilities. The reference codes on the bottles included in the voluntary recall begin with either "F" (Hamburg) or "A" (Allentown), Niagara said. The first digit after the letter indicates the number of the production line. The next two numbers indicate the day, then the month in letters, the year and then the time, based on a 24-hour clock.
The contamination was discovered on June 10, but the plants were not shut down right away.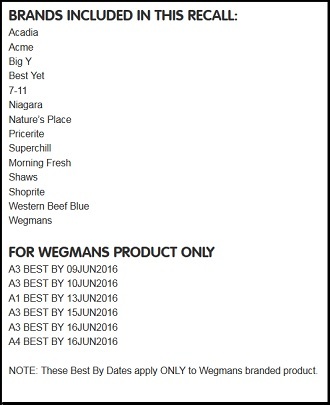 The affected brands are: Acadia, Acme, Big Y, Best Yet, 7-Eleven, Niagara, Nature's Place, Pricerite, Superchill, Morning Fresh, Shaws, Shoprite, Western Beef Blue and Wegmans. They are sold at several grocery stores, including Wegmans, Giant Food, Shaws and 7-Eleven, among others.
"Because our supplier's announcement did not have details for our products, we are providing this clarification," Jo Natale, Wegmans' vice president of media relations, said in a statement. "We want to be sure our customers know the recall is limited to 16.9 oz. Wegmans (FYFGA) Spring Water, sold individually or in multi-packs. We are asking customers to read the label carefully for the code date and to look for Niagara Bottling, LLC."
Wegmans has other types and sizes of bottled water packed by other suppliers that have not been impacted, Natale added.
The affected water makes up less than 3 percent of water produced by Niagara between June 10 and June 18, Niagara spokesman Stan Bratskeir told USA Today. Most of that water had not yet made it to store shelves.
"The overwhelming likelihood is that all the bottled water is fine," Bratskeir said. "The water we got from that source was clean. We test it all."
E. coli can cause nausea, diarrhea, abdominal cramping and vomiting.
If consumers choose not to participate in the voluntary recall, they should boil the water for at least one minute and let it cool before drinking it.
There have been no reports of any illness or injury related to the affected spring water, Niagara said. The voluntary recall is being conducted in conjunction with state and federal agencies.
You can share this story on social media: