UN panel suggest banning nations from missions over sexual offenders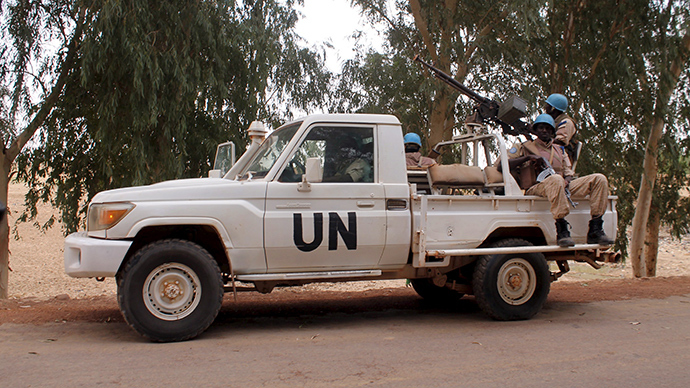 A high-level panel has urged the UN to prosecute peacekeeping troops who commit sexual offenses, and suggested the organization ban offending nations from further missions. It follows reports of sexual misconduct by troops in their areas of deployment.
The 16-member panel, established by UN Secretary-General Ban Ki-moon in October last year, submitted its report to Ban on Tuesday.
It states that contributing nations must take disciplinary action against offending troops, adding that they are not immune from prosecution.
READ MORE:UN quietly offers DNA tests to address 'peacekeeper babies' & sexual abuse claims
"Immunity must not mean impunity," the panel said at a news conference, adding that accused parties must immediately cooperate with the host country.
"This is what has to be very clear: you commit a barbarity, you have no protection whatsoever," said panel leader Jose Ramos-Horta, a Nobel Peace Prize laureate and East Timor's former president. "You are subject to the laws of the country where you are operating. You cannot hide under the United Nations roof."
The panel also stated that nations whose troops are responsible for using or sexually abusing children in conflict zones should be banned from contributing further troops to UN missions. Those countries should be identified in the secretary-general's reports, along with the number of cases that occurred.
READ MORE: 'Horribly possible': More child-rape cases by peacekeepers could emerge – UN
It added that female UN staff and human rights experts should become more involved, reporting regularly on the human rights situation in each area of deployment.
Meanwhile, victims of such crimes should be assisted by an "effective and adequately resourced" victim assistance program, the panel concluded, adding that the UN needs a new deputy secretary-general responsible for peace and security.
Ramos-Horta said the panel also proposed that UN member states support and fund a program to assist victims of sexual exploitation and any children born to them.
The panel supported Ban's recommendations for a six-month deadline for sexual abuse investigations and suggested that nations be required to disclose what disciplinary action had been taken against offending soldiers, as well as any government failures to report.
The suggestions were made following a seven-month observation of the UN's peacekeeping operations.
READ MORE: HRW: Peacekeepers in Somalia rape women who seek aid and medicine
It comes amid shocking reports that UN peacekeeping troops have committed sex crimes in their areas of deployment, which Ramos Horta described as a "dark chapter" that would take "enormous effort to overcome."
He added that the sexual misconduct "undermines the most important power the UN possesses – its unquestionable integrity."
Last week, a report from the UN Office of Internal Oversight Services (OIOS) obtained by AP stated that peacekeepers deployed in Haiti engaged in "transactional" relationships for food and medicine with 200 women and girls.
In April, a UN report detailed how French soldiers raped and sodomized starving and homeless boys in the Central African Republic. Some of the boys were as young as nine. Allegations of misconduct by peacekeepers from Chad and Equatorial Guinea were also reported.
The UN has urged countries involved in the atrocities to beef up their efforts to bring the offenders to justice.
The panel's report wasn't solely focused on sexual offenses; it also made recommendations on issues ranging from the use of force by peacekeepers to funding operations and restructuring the UN Secretariat.