HRW: Peacekeepers in Somalia rape women who seek aid and medicine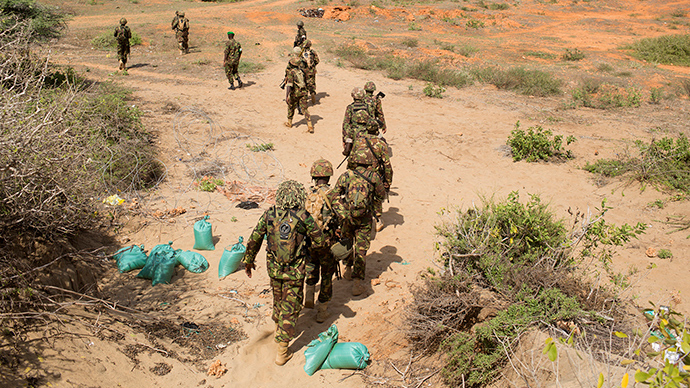 Peacekeepers in Somalia used humanitarian aid to lure women and teenagers, who come to ask for medicine and food, and to rape them, HRW said on Monday. The victims often conceal it fearing reprisals, while the troops are immune from local prosecution.
The HRW report"'The Power These Men Have Over Us': Sexual Exploitation and Abuse by African Union Forces in Somalia" has documented the sexual exploitation and abuse of Somali women and teenagers in two bases of The African Union Mission in Somalia (AMISOM) since 2013.
The soldiers used humanitarian assistance to coerce women into sexual activity. There are also allegations of raping women who came seeking water or medical assistance.
HRW talked to 21 victims who said they had been raped or sexually exploited in other way. 15-years-old Qamar said a soldier raped her. She told Human Rights Watch: "First he ripped off my hijab and then he attacked me." As she was leaving, the second soldier waved her to come over to him and gave her US$10.
In January 2014, Ayanna S., a displaced person, went to the Burundian X-Control base to get medicine for her sick baby. She and three other women were dragged into a bunker area. Six soldiers beat and raped them, badly injuring one.
"We carried the injured woman home. Three of us walked out of the base carrying her," said Ayanna S. "She couldn't stand. She couldn't put weight on her leg. The Burundians were still there as we were leaving. They gave us porridge, cookies, and five [US] dollars, but they didn't say anything to us, they threw the items at us and a bag to put them in," the report cites.
Several women said they received official badges, which allowed them to visit the bases any time and get money for sex.
The women who agreed to talk to HRW said that other victims didn't report abuse for various reasons. Some of them fear reprisal from the soldiers, others – retribution from their own families. But there are also women who don't want to lose their only source of income. That's why HRW can't draw a definitive conclusion concerning the real extent of the problem.
Following years of military conflict and famine, the economic situation in Somalia is very tough and humanitarian aid is often the only way to survive.
The African Union Peace and Security Council sent the peacekeeping troops to Somalia under a UN Security Council mandate in 2007. They are known as AMISOM. Their goal is to restore order after the war, to protect infrastructure and to deliver humanitarian assistance.
"Some African Union soldiers have misused their positions of power to exploit Somalia's most vulnerable women and girls," said Liesl Gerntholtz, women's rights director at Human Rights Watch. "Somalia has many intractable problems, but the Somali and AU leadership could end sexual exploitation and abuse by pressing troop-sending countries to hold abusers responsible."
The AMISOM troops are immune from prosecution in Somalia. It is the countries providing peacekeeping troops who are responsible for the conduct of their forces. They have exclusive jurisdiction over the personnel and have started procedures to investigate the cases. Although until now only one country, Uganda, has seen a case going before a military court.
"The AU can no longer turn a blind eye to the abuses on AMISOM bases, as it's undermining the very credibility of the mission," Gerntholtz said.
"Governments supporting AMISOM should work with the AU to end sexual abuse and exploitation of Somali women and girls by their troops, take action against forces contributing to it, and do what they can to prevent further sexual exploitation and abuse of Somali women."
You can share this story on social media: