UN peacekeepers sexually abused hundreds of Haitian women & girls – report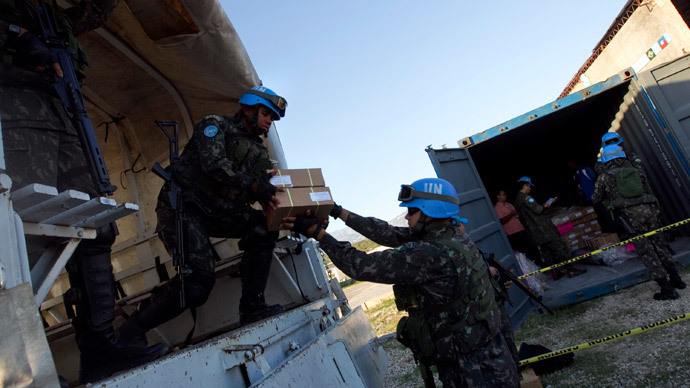 UN peacekeepers deployed in Haiti engaged in "transactional" sexual relationships for food and medicine with over 200 women and underage girls, a draft report seen by the Associated Press suggests, noting that many cases of abuse remain underreported.
According to a new UN Office of Internal Oversight Services (OIOS) report obtained by the news agency, a third of alleged sexual exploitation and abuse involved minors under 18.
The shocking conclusions were revealed after investigators interviewed 231 people in Haiti who claimed they were forced to perform sexual acts with UN peacekeepers in exchange for basic necessities.
"For rural women, hunger, lack of shelter, baby care items, medication and household items were frequently cited as the 'triggering need,'" the report says. Those living in the city or in its vicinity had sex in exchange for "church shoes, cell phones, laptops and perfume, as well as money," report says.
"In cases of non-payment, some women withheld the badges of peacekeepers and threatened to reveal their infidelity via social media," the report says.
The UN explicitly bans the "exchange of money, employment, goods or services for sex," and discourages relationships between UN staff and those who are under their care. However, only seven of the interviewed victims "knew about the United Nations policy prohibiting sexual exploitation and abuse," the report states.
The report, which should be released this month, makes no reference to the time frame of the alleged violations, but the 7,000-strong UN peacekeeping mission in Haiti started in 2004. The investigation also does not mention the number of peacekeepers involved.
The report says that the lack of any clear action is "demonstrating significant underreporting," while noting that assistance to those that suffered is "severely deficient." The average investigation by OIOS takes more than a year, according to AP.
READ MORE: UN urges CAR child-rape probe after failing to follow up on abuse reports for months
Sexual abuse by peacekeeping troops, some 125,000 of which are currently deployed around the world, has undermined the credibility of their missions. A rapid increase in prostitution and abuse in Cambodia, Mozambique, Bosnia, Sudan and Kosovo were documented after UN peacekeeping forces moved in.
Earlier this year it was revealed that UN peacekeepers raped and sodomized starving and homeless boys in the Central African Republic, some as young as nine.
However, the number of documented cases of sexual abuse and exploitation by members of UN peacekeeping missions was 51 in 2014, down from 66 the year before, according to the secretary-general's latest annual report on the issue.
You can share this story on social media: