AFP contributor injured in shelling in Donetsk, Ukraine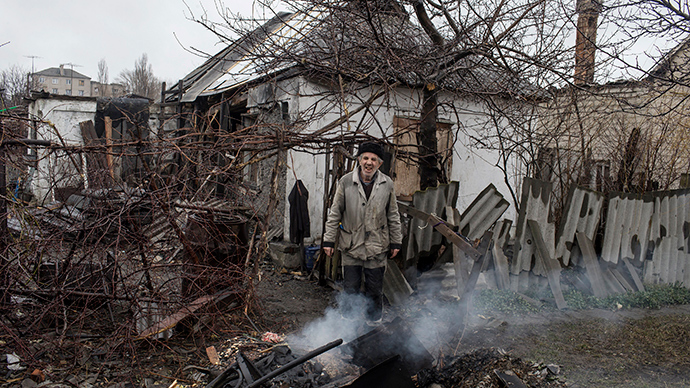 An AFP contributor has sustained a leg injury and was taken to hospital after his house in Donetsk, eastern Ukraine, came under shelling on Sunday.
Aleksandr Gayuk told RT he was in hospital and feeling poorly, but this is not a life-threatening situation. The incident was also confirmed by AFP's Moscow bureau.
"The shelling was very intense. I was lucky - the injury is not deep. I have been given first aid," Gayuk also told RIA Novosti.
При обстреле Донецка ранен стрингер AFP Александр Гаюк http://t.co/g3iLqe44fEpic.twitter.com/iBCrpFTPKV

— RT на русском (@RT_russian) June 14, 2015
It is yet unclear where the shelling came from.
Over the past week, two civilians have been killed, nine more wounded and 50 houses destroyed in shelling, according to Ivan Prikhodko, head of the Kuibushevsky district in Donetsk, where Gayuk's house is located.
READ MORE: In the line of fire: Journalists killed and abducted in Eastern Ukraine
Earlier in the day, authorities of the self-proclaimed Donetsk People's Republic warned the fragile ceasefire in the Donbass region could escalate into a full-fledged military conflict "within hours."
"We're on the brink of a major war," Denis Pushilin, DNR's permanent representative, told RIA Novosti.
In April, two local journalists were wounded near Donetsk airport as a shell hit the car they were traveling in. Since the beginning of the year, at least six journalists were killed in eastern Ukraine, and two more in Kiev.
The Ukrainian conflict began last April, when Kiev sent regular forces and volunteer battalions to the Donetsk and Lugansk regions in a crackdown operation against local rebels, who refused to recognize the country's coup-imposed authorities. According to the latest UN estimates, over 6,500 people have died as a result of the conflict.