​'No concessions!' Palestine to demand FIFA to expel Israel
Published time: 2 May, 2015 12:41
Edited time: 4 May, 2015 15:14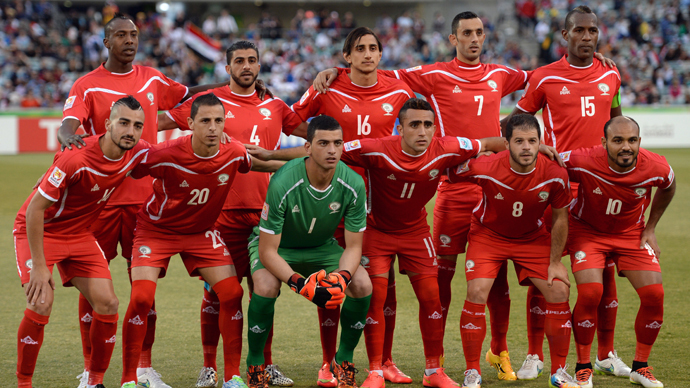 Palestine will seek Israel's exclusion from FIFA later in May, the Palestinian football chief said. Jibril Rajoub told Reuters he won't drop a resolution calling to sanction Israel for "behaving like the neighborhood bully."
The head of the Palestinian Football Federation and the Palestine Olympic Committee will press ahead with his proposal to European delegates at FIFA's Congress in Zurich on May 29.
"Last year, we dropped the resolution when Europe got involved and the Israelis promised to co-operate in improving the situation," Paulo Rajoub told Reuters.
Israel is still behaving "like the neighborhood bully, or worse," he said. He asserted Israel was "persecuting Palestine footballers, athletes and the movement of sporting equipment."
READ MORE: Israel stands behind travel restrictions for Palestinian football players
"Enough is enough," Rajoub said.
In 2013 and 2014, Paulo Rajoub agreed to drop similar resolutions when Europe got involved.
"This is the third year in a row this has come up, first in Mauritius, then Brazil and now again," he told Reuters.
But Rajoub said "there is now a feeling Europe cannot sit back and ignore what Israel is doing any longer."
While Europe may once again step into, Rajoub holds firm to his intention.
"We are close to crossing the bridge and no-one can stop us having the proposal on the agenda even if some people would rather it was not," he said. He "would not make the concessions" he made when withdrawing the previous proposals.
"A year ago I agreed to drop the proposal, I will not do that again. The aggression towards our sportsmen and women in the West Bank and Gaza continues. It is hostile and racist and the time has come to take action," he said.
Palestine will have to gain a three-quarter majority of FIFA's 209 members for its demand and the Palestinian Football Federation head is confident this will happen.
"Don't think just because Israel is in Europe that Europe will support Israel any longer," he said.
"I think [UEFA president] Michel Platini, who has backed Israel in the past, has had enough. He sent us sports equipment which was held by Israel for 16 months and we had to pay $32,000 to get it."
FIFA president Sepp Blatter has attempted to ease the situation between the countries but failed.
READ MORE: Palestine gets ICC membership, opening door to Israel war crimes prosecution

Blatter may go to Israel to try to resolve the crisis, a FIFA spokesman said.
"It is a possibility, not a certainty, but it is a problem the president would like to see resolved," a statement said as cited by Reuters.
Tensions between Israel and Palestine further deteriorated following the conflict in Gaza last summer, when 2,200 people were killed in 50 days of Israel's Operation Protective Edge.