Stripper send-off: China pledges crackdown on burlesque funerals
Published time: 24 Apr, 2015 10:42
Edited time: 24 Apr, 2015 10:47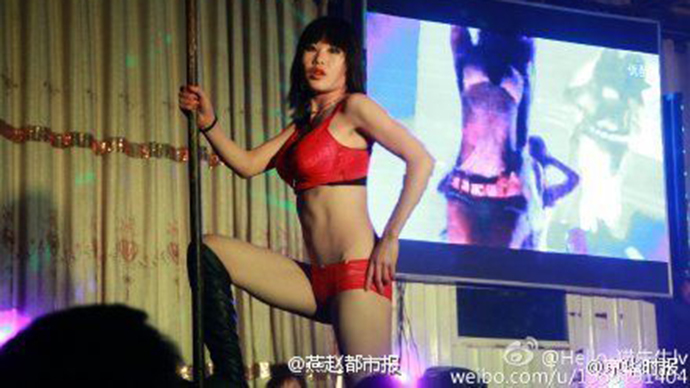 China's Ministry of Culture issued a statement condemning the rural practice of having strippers dance at funerals to attract mourners. Crackdowns on the "uncivilized" practice were promised, threatening glorious afterlives across the country.
Striptease is illegal in China, but the practice still goes on in rural places.
"From time to time, 'stripteases' and other illegal performances have occurred in the countryside," the statement on the ministry's website read. It mentions two cases in the Hebei and Jiangsu provinces. In both, the organizers and performers faced punishment.
READ MORE: 'Blush with shame': China to register its tourists' misbehavior

The ministry emphasizes that the events "disrupt the order of the rural cultural market and corrupt the social atmosphere." It promised a strengthening of measures across the board to tackle the issue – from market regulation to police crackdowns, as well as rural education on legal matters.
Pictures emerged last month of the funeral in Hebei province in which a dancer takes her bra off.
"Two strippers wearing revealing clothes danced on a stage at a public square in our village at night on February 15," an eyewitness told China's Global Times earlier this month. "They first danced passionately and then took off their clothes piece by piece," he added. "Behind them, an electronic screen was displaying a picture of the deceased with elegiac couplets on either side."
The incident in the city of Handan saw performances from six dancers and resulted in the organizer being detained for 15 days, followed by a fine of 70,000 yuan (about US$11,300).
Over in Jiangsu province, as many as 500 attendees were present. The entire band of dancers was detained.
It is considered that displays of such sort are testament to tradition losing the battle to the vain antics and snobbery of the rich. And the practice is not unique to China – similar traditions hold sway in Taiwan. According to a documentary by National Geographic, the practice there is decades-old.
Large crowds are important at funerals, and strippers factor into this. A large crowd spells good fortune for the deceased in the afterlife, and the more lavish your funeral, the better your chances are in heaven. China's CCTV agency carried out an investigation back in 2006 and found a whole barrage of ads for funeral strippers in every village in the country. They reportedly perform as many as 20 shows a month, charging 2,000 yuan ($322) per performance.
READ MORE: 1.8mn accounts closed in China's massive porn shutdown op

And the fact of strippers being present isn't the only thing that will secure you a better afterlife. The grandeur of the show itself is a factor – it draws more visitors.
"These troupes only care about money. As for whether it's legal, or proper, or what effect it has on local customs, they don't think much about it," CCTV said at the time, as cited by the Wall Street Journal.