US to give Ukraine $17.7mn extra in humanitarian aid – White House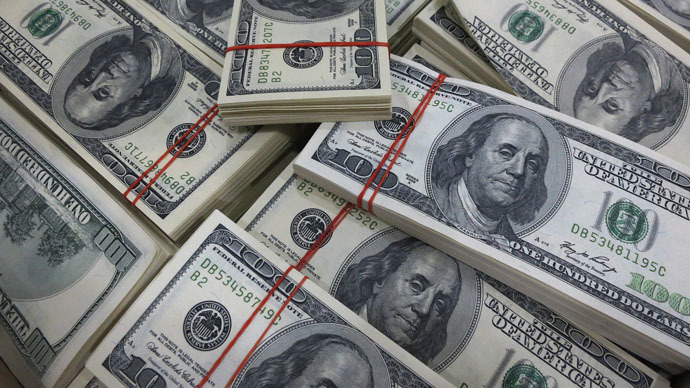 The US government has agreed to give Ukraine millions of dollars in aid, including food, shelter and water, the White House confirmed. This follows a discussion between US Vice-President Joe Biden and Ukrainian President Petro Poroshenko.
"The vice-president informed President Poroshenko that the US will offer [an] additional $17.7 million," the White House said in a statement. The declaration clarified that the money will be set aside for medical needs, foodstuffs and drinkable water.
Biden also told Poroshenko during their meeting on Monday that the US is ready to give Ukraine some loan guarantees worth $1 billion as part of its financial support in 2015.
Biden and Poroshenko also discussed Ukrainian reforms.

"The vice-president welcomed the appointment of a new head of the anti-corruption bureau and encouraged the further implementation of rule of law reforms, including anti-trust measures and judicial reform," the White House added.
Last week, Poroshenko appointed Artyom Sytnyk as the new Director of the National Anti-Corruption Bureau.
Last week the EU approved a new bailout package for Ukraine worth €1.8 billion, ($1.93 billion) with the first €600 million ($643 million) slice being provided in the summer, according to the EU Commission.
READ MORE: EU approves additional €1.8bn in financial aid for Ukraine
Ukraine's economic situation is dire, with the country's foreign debt totaling $72.9 billion at the beginning of 2015. The central bank reserves have been depleted below $5.6 billion as of March 5 and the hryvnia has lost about 70 percent of its value in 12 months.
In March, the United Nations Children's Fund (UNICEF) described the pressing need to protect medical facilities in eastern Ukraine, stressing the urgency of delivering medical supplies safely to the war-ravaged region, which is experiencing a humanitarian crisis.
A statement released on March 19, said that more than 100 health facilities have been damaged or destroyed during the fighting in the Donetsk and Lugansk Regions.
More than 3,000 civilians have died and over 2,200 people are missing since the start of the military conflict in the self-proclaimed Donetsk People's Republic last year, the DPR's human rights commissioner's press service said in April.
The service added that around 9,500 buildings have been either been damaged or completely destroyed, at a total cost exceeding $64 million.
Russia has been offering aid to the eastern Ukraine regions, including numerous humanitarian aid convoys and access to medical help to the injured.
READ MORE: 3rd Russian humanitarian aid convoy arrives in Donetsk
Russian President Vladimir Putin said last week that Moscow will provide Ukraine with discounts on gas and coal because it is genuinely interested in Ukraine's economic recovery.
"We want to see Ukraine emerge from crisis, because they are our neighbors and partners, and it is in our interest to have peace on our borders, to be able to develop economic ties with a prosperous partner," Putin stated during his annual Q&A session on Thursday.
He was also critical of Kiev blocking off the Donbass region from the flow of goods and energy, stressing that since February's Minsk agreements, the cities in the region have become more isolated.
"We are witnessing a total blockade of Donbass," said Putin. "This applies to the financial sector, the banking system, social benefits and pensions."
The Ukrainian government suspended welfare payments and other forms of financing to Donetsk and Lugansk in November 2014. In February 2015, Kiev stopped gas supplies to the regions, stating it was due to the damage caused to the pipelines.
In response, Russia's Prime Minister Dmitry Medvedev ordered the Energy Ministry and state-owned corporation Gazprom to provide gas deliveries to the self-proclaimed Donetsk and Lugansk Republics.
READ MORE: PM Medvedev orders commencement of gas deliveries to embattled Donbass
One of the latest efforts by Russian activists included helping eight children with heart conditions from eastern Ukraine, who traveled to hospitals in Moscow as they required urgent medical attention.
READ MORE: Patients 'dying of hunger & cold': WHO raises alarm over healthcare in Ukraine
There have also been numerous independent online campaigns aimed at gathering food, clothes and medicine for those living in the Donbass region.