PM Medvedev orders commencement of gas deliveries to embattled Donbass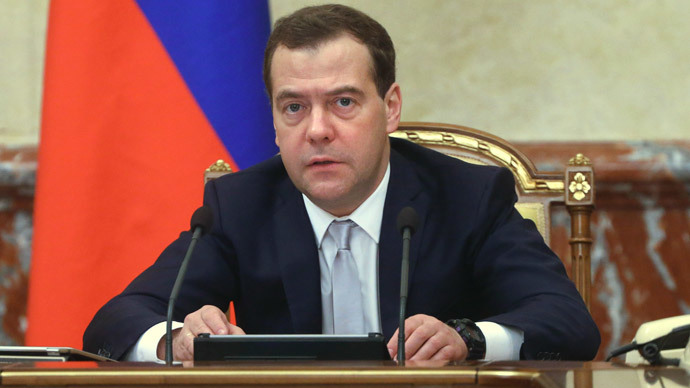 Russia's prime minister has ordered the Energy Ministry and state-owned corporation Gazprom to prepare for natural gas deliveries to the self-proclaimed Donetsk and Lugansk Republics after the Kiev regime stopped selling fuel to the regions.
"There is a problem related to natural gas deliveries, caused by the decision of Ukrainian authorities that has not yet been canceled. The situation is that natural gas is not delivered to a number of settlements," Dmitry Medvedev told ministers at a cabinet meeting on Thursday.
"I would like the Energy Ministry and Gazprom to prepare their suggestions on rendering aid to these regions in the form of natural gas supplies. Of course this will be needed only if Kiev does not take urgent measures to resume gas supplies under the usual scheme."
"In any case, people must not freeze there. Prepare the necessary suggestions and report on what is done," Medvedev said.
Medvedev's press secretary Natalya Timakova told Interfax that Gazprom would send natural gas to Donetsk and Lugansk "on a commercial basis," but noted that the sources of financing were yet to be determined. The agency also quoted an unnamed source "acquainted with the situation" as saying that the possible scheme could include a bank credit.
Earlier, representatives from Donetsk and Lugansk told reporters that the natural gas supplies to the regions had been stopped without warning and that existing reserves would only last for less than a day in subzero temperatures.
Ukrainian PM Arseny Yatsenyuk announced an energy blockade to the southeastern regions in a press statement on Wednesday. He ordered the cessation of deliveries of natural gas and electricity in a unilateral step.
The prime minister of the unrecognized Lugansk People's Republic, Gennady Tsipkalov, told Interfax that since the Ukrainian side was not commenting on the gas cutoff there was little hope that supplies would be resumed anytime soon.
"They deliberately aggravate the situation, step up the political and economic pressure. They did it now, when outdoor temperatures dropped and gas consumption in our regions increased," he added.
Tsipkalov also noted that Lugansk authorities could potentially cut off the natural gas flow to the districts of the republics that are currently controlled by the pro-Kiev military, but chose not to do so in order not to adversely affect civilians.
"We will not do the same out of malice and hatred. We have had enough of all this."
Also on Thursday, head of Russian Emergencies Ministry Vladimir Puchkov told reporters that another convoy of trucks with humanitarian aid was starting for the southeast of Ukraine in the nearest hours. The deliveries include medical supplies and food.
READ MORE: Duma chief pledges Russian support in Donbass restoration
You can share this story on social media: