Putin: Russia gives Ukraine energy discounts to help it exit crisis
Published time: 16 Apr, 2015 12:23
Edited time: 16 Apr, 2015 15:16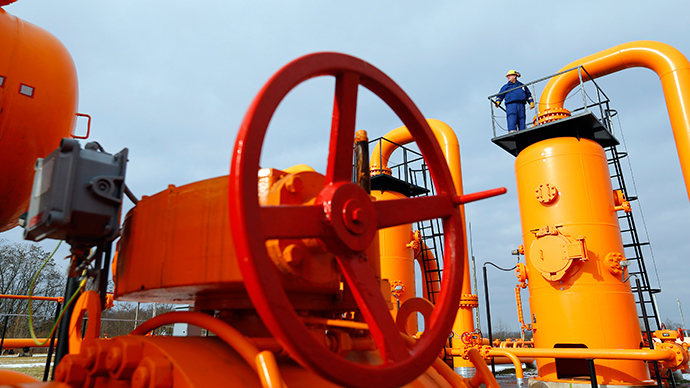 Moscow has no formal obligations to give Ukraine discounts on gas and coal, but does so because Russia is genuinely interested in Ukraine's economic recovery, President Vladimir Putin has said.
"Currently, Russia doesn't expect anything from the Kiev government except one thing- to treat us as equal partners in all areas of cooperation," Putin said during his annual Q&A session on Thursday.
Ukraine buys gas from Russia at one of the lowest prices in Europe, at $248 per 1,000 cubic meters, a discount that was extended after the 'winter package' deal in the first quarter.
"We want to see Ukraine emerge from crisis, because they are our neighbors and partners, and it is in our interest to have peace on our borders, to be able to develop economic ties with a prosperous partner," Putin said.
Donbas blockade
Putin criticized Kiev for blocking off the Donbas regions, essentially blockading the flow of goods, energy, and people.
Since the Minsk ceasefire agreed in February, the Donbas cities of Donetsk and Lugansk have been more isolated from social services.
"We are witnessing a total blockade of Donbas," said Vladimir Putin. "This applies to the financial sector, the banking system, social benefits and pensions."
Putin said ordinary citizens, who are not involved in any of the fighting, are still deprived their pensions, even some who have worked for over 20 years in Ukraine.
READ MORE: Donbas blames Kiev 'economic blockade' for multi-currency introduction
"It can be said that Ukrainian authorities with their own hand are cutting themselves off from the Donbas. This is a disaster and tragedy," Putin said.
Kiev's blockade of the Donbas was a key point in negotiations between Russia and Ukraine on a renewed gas discount.
On February 19 Ukraine suspended gas supplies to Donbas saying the reason was a damaged pipeline. After that Russia began separate gas deliveries to Donbas saying that a delay in prepayment by Ukraine may threaten further supplies of Russian gas to the country.