Assange to allow Swedish prosecutors to question him in London – lawyer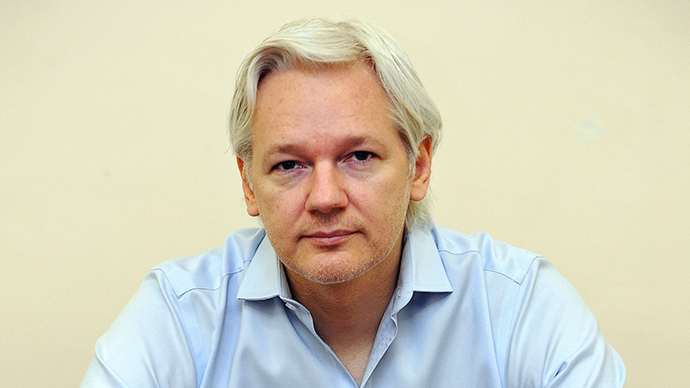 Julian Assange's his legal team says the whistleblower has agreed to a long-negotiated interview with Swedish prosecutors about allegations of rape and sexual assault dating back to 2010.
"We have today sent a confirmation to prosecutors that Julian Assange agrees to be questioned. He assumes that the interrogation will follow the existing rules framework," his lawyer Thomas Olsson told Swedish newspaper Dagens Nyheter on Thursday.
READ MORE: 'Like living inside space station': Julian Assange marks 1,000 days in limbo
"Now we await further word from prosecutors," Olsson also told Reuters.
Australian-born Assange has spent more than 1,000 days in the Ecuadorian embassy in London, to avoid extradition to Sweden, which he fears will hand him over to the US. In America he may face separate charges pertaining to his role in the US diplomatic cable leaks, hosted on his website WikiLeaks in 2010.
Assange says he has "repeatedly" invited prosecutors to question him by video link or in London over charges brought by two women, which he denies.
READ MORE: Swedish prosecutors offer to question Assange in London over rape case
But Swedish prosecutor Marianne Ny opposed the move until last month, when she reversed her decision, due to the statute of limitations on some of the charges running out in August this year. The statute of limitations for rape, the most serious of the charges against the 43-year-old former hacker, does not run out until 2020.
As a pre-condition, Assange's legal team requested to view the entirety of the investigatory case that has been built against him since 2010, in contravention of customary practice in the Swedish legal system. It is unclear if a compromise has now been struck on the issue.
Assange law conference address boycotted
Assange's confinement has done little to keep him out of the news. His surprise appearance by video-link at the prestigious Commonwealth Law Conference earlier this week led to mass boycotts from senior judges.
"The conference programme was changed to include Mr Assange's participation at short notice and without consultation. Mr Assange is, as a matter of law, currently a fugitive from justice, and it would therefore not be appropriate for judges to be addressed by him," the Judicial Office for Scotland said in a statement.
The protest was also backed up by the UK supreme court, and the judiciary of England and Wales, which said that the boycotts were a testament to the "strong commitment to the rule of law."
READ MORE: 'Not paranoid': Scottish independence threat forced full deployment of UK security apparatus – Assange
Assange was brought in as an expert on surveillance and security, and addressed a panel of about 20 legal officials.
The content of his contribution has also made the headlines after he made the allegation that Westminster viewed the Scotland independence referendum last year as a "national security issue," and claimed that London may have been using the "full capacities" of UK-wide intelligence agency GCHQ to "influence" the result.
September's bid for independence was defeated by a margin of 55 to 45 percent, but Scottish National Party leaders have accused the MI5 of staging a "dirty tricks" campaign to undermine the secessionists.
Assange made a further assertion that private legal correspondence was being intercepted by security agencies – an illegal practice – though he did not supply evidence of specific violations.
You can share this story on social media: