Swedish prosecutors offer to question Assange in London over rape case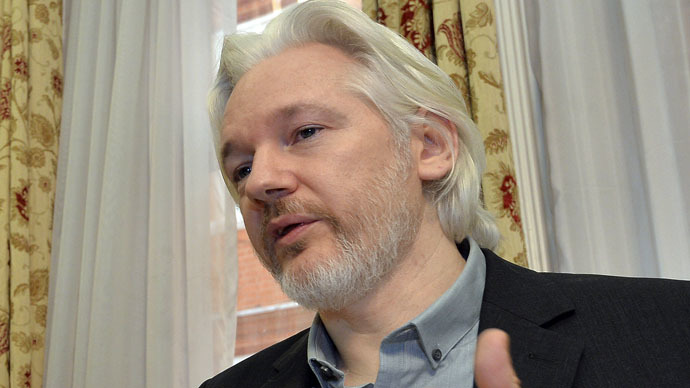 Swedish prosecutors have offered to question Julian Assange in the Ecuadorian Embassy in London over allegations of sexual misconduct and rape, Reuters reports. The WikiLeaks founder's lawyer said he welcomes the request, but the process will take time.
Prosecutors have also asked to carry out a DNA test on Assange.
READ MORE: Assange's prosecutor has not done anything in 4 years – WikiLeaks spokesperson
The offer was made by chief prosecutor Marianne Ny, according to the Swedish Prosecution Authority.
"If Assange gives his consent, the prosecutor will promptly submit a request for legal assistance to the British authorities to further continue the investigation," the Swedish Prosecution Authority said in a statement.
Assange's approval is needed for the prosecutors to question him "as English law states that a person being interviewed through the use of international legal assistance in a criminal case must also provide his or her consent." A request will also be sent to the Ecuadorian government.
"My view has always been that to perform an interview with him at the Ecuadorian Embassy in London would lower the quality of the interview, and that he would need to be present in Sweden in any case should there be a trial in the future," Ny said.
Swedish prosecution requests #Assange DNA sample http://t.co/dWK6dTPvoU Despite sample already taken in 2010 (p 38) http://t.co/1mcMnlMZSV

— M (@m_cetera) March 13, 2015
Assange's Swedish lawyer welcomed the Swedish prosecutors' request to interview Assange in London, but added that the whole process of questioning could take time.
"We welcome [this] and see it also as a big victory ... for Julian Assange that what we have demanded is finally going to happen," Per Samuelson, Assange's lawyer, told Reuters.
However, Samuelson added that the request from Swedish prosecutors was accompanied by a number of formal requirements, which included requests for permission for the questioning from the UK and Ecuadorian authorities.
- note that the US case continues and that the UK has previously stated that it will arrest #Assange anyway, even if Sweden were to withdraw

— WikiLeaks (@wikileaks) March 13, 2015
"That means that could take time, despite the fact that we are in a hurry," Samuelson said.
Assange has lived inside the Ecuadorian Embassy in London for over two years while awaiting safe passage to South America, where he has been granted asylum.
The WikiLeaks founder has not been charged with a crime, but is wanted for questioning regarding allegations of sexual misconduct brought against him in Sweden in 2010.
With Julian #Assange's 1000 days in the Embassy coming up March 16, here's a reminder of some facts. #WikiLeakspic.twitter.com/OYHRKzJtXK

— Bean (@SomersetBean) March 13, 2015
An arrest warrant was issued for Assange in 2010 in the of wake sexual assault allegations leveled against him by two Swedish women. The Wikileaks founder has denied the allegations of sexual misconduct and rape. He managed to avoid extradition to Sweden by seeking refuge in the Ecuadorean Embassy in London, where he has resided since 2012.
If Assange is deported to Sweden, he will likely face espionage charges in America over his role in publishing sensitive, classified US government documents.
In June 2014, 56 international human rights and free media organizations signed a letter addressed to US Attorney General Eric Holder, calling upon the US government to end all criminal investigations into Assange's actions as editor-in-chief of WikiLeaks, and to cease harassing the organization for publishing materials in the public interest.