Okinawa overrule: Japanese minister vetoes local governor on new US military base
Published time: 30 Mar, 2015 16:12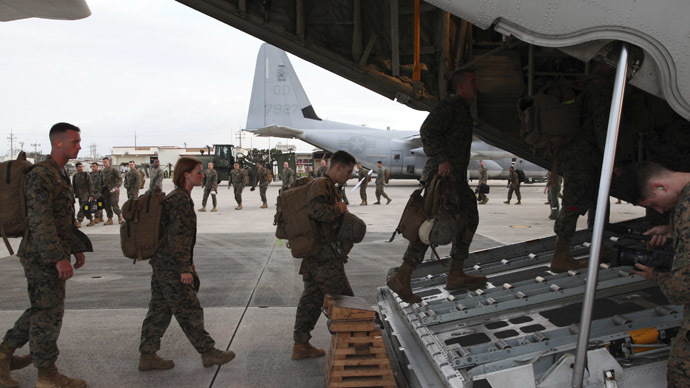 Efforts on the part of residents of a rural town in Okinawa to block construction of a new US military base faced a major setback when the Japanese fisheries minister intervened on behalf of the new development.
On Monday, Japan's Fisheries Minister Yoshimasa Hayashi "temporarily invalidated" the Okinawa governor's order to halt construction of a new US air base, which has been a source of discord among residents of Okinawa, the southernmost island of Japan that supports some 26,000 out of 47,000 American military personnel, the Asahi Shimbun reported.

READ MORE: Anti-base Okinawa governor blocks relocation of US Marines
The new US air base planned for the rural town of Nago, on reclaimed land adjacent to a US military base called Camp Schwab, would replace the Futenma Air Base, some 50km (30 miles) away in a congested urban area in central Okinawa.

Hayashi said postponing construction of the base threatened "great damage to diplomacy and defense policy by having a negative impact on the Japan-US relationship, as well as affecting residents near Futenma," he said in a statement.

Last week, Okinawa's Governor Takeshi Onaga attempted to block plans to build a new US air base in Nago, claiming underwater survey work needed for reclamation of land for the new $8.6 billion base, hence the Fisheries Ministry's involvement.

Onaga, who won the 2014 gubernatorial race on his pledge to keep out the US base, said he would hold a press conference to express his position on Hayashi's ruling.
READ MORE: Japanese Navy gets biggest warship since World War II
Chief Cabinet Secretary Yoshihide Suga said Hayashi's decision came after he had examined the position of the governor "from a fair and neutral position," adding that the federal government believes it is "extremely important" to confront the risks posed by the Futenma base, which is in a densely-populated urban area.

An agreement between the United States and Japan to close down the Futenma Air Base occurred in 1996 after the US military had a severe falling out with the local populace following a number of crimes, including 1995 gang-rape of a 12-year-old Japanese girl by three US military personnel.