​Anti-base Okinawa governor blocks relocation of US Marines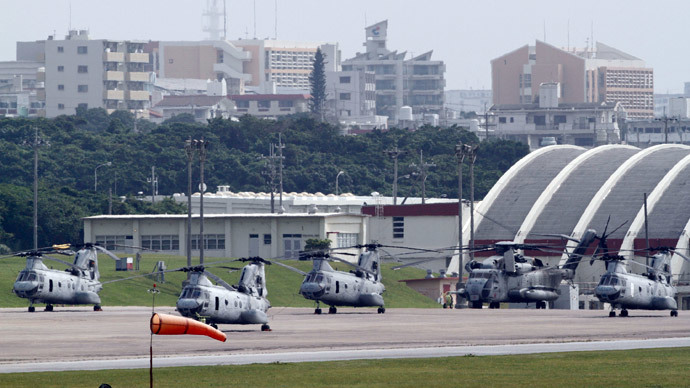 Okinawa's governor ordered a halt to an underwater survey needed for reclamation of land for a new $8.6-billion base, which would host US troops after the Futenma facility on the island is closed.
Takeshi Onaga is delivering on the promise he made to voters to oppose the construction, after his election last November. At a media conference on Monday, he announced that defense ministry contractors must stop the survey due to the damage it's causing to corral reefs. If they don't, Onaga said he would revoke approval for drilling operations given by his predecessor in December 2012 within days.
The survey is necessary for the eventual construction of an off-shore runway for the future US military base in the less populous area of northern Okinawa, which would house thousands of troops after the closure of the Futenma base in the south.
READ MORE: Anti-US military base candidate wins Okinawa governor race
The facility is viewed by locals as a source of noise, pollution and crime. Opposition to its presence flared up after the rape and abduction of a 12-year-old girl by three US servicemen in 1995.
In 1996, Tokyo and Washington agreed to shut the base down, but construction of a replacement stalled due to local resistance.
Onaga's move coincides with the announcement of Prime Minister Shinzo Abe's visit to the US in late April. Abe, who supports the construction of the new base, is expected to be praised for his determined position to oppose Chinese influence in the region.
Chief Cabinet Secretary Yoshihide Suga told journalists the Japanese government was examining Onaga's documents. He called the governor's steps "extremely regrettable."
"We are going to continue with construction work without delay," the spokesman said.
You can share this story on social media: