Japanese Navy gets biggest warship since World War II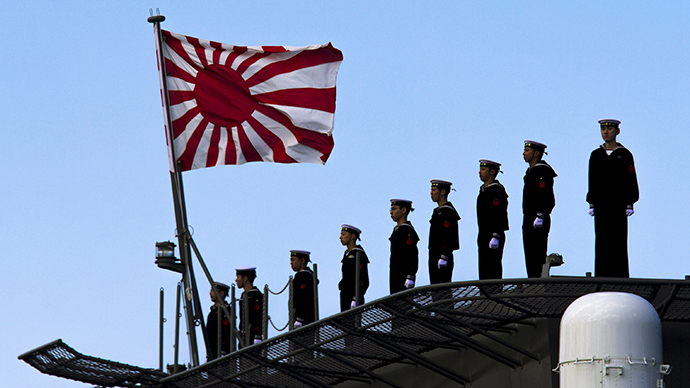 The Japanese Maritime Self Defense Force has just received its biggest flat-top helicopter carrier since World War II, as Prime Minister Shinzo Abe attempts to loosen the restraints of Japan's post-war pacifist constitution.
The Izumo is 248 meters long and, with a crew of 470, it resembles the amphibious assault carriers of the US Marine Corp, Reuters reports.
The vessel will be based at the Yokosuka Naval Base near Tokyo, also the home of the US Seventh Fleet carrier battle group.
Designated as a helicopter carrier, the Izumo allows Japan to keep within the post-WWII ban on the means to wage war. Aircraft carriers are considered offensive weapons.
But the vessel is a very visible sign of how japan is expanding its military capability to operate overseas.
"The vessel can serve in a wide range of roles including peace keeping operations, international disaster relief and aid. It also helps improve our ability to combat submarines," said General Nakatani, Japan's Minister of Defense.
The Izumo is not fitted with steam catapults, which are needed to launch fixed-wing fighter aircraft, but the VTOL version of the F-35 and the Harrier jump jet could fly from the flight deck.
READ MORE: Japan approves largest military budget since WWII
As well as the Izumo, Japan is buying longer-range patrol aircraft, Boeing's Osprey troop carrier and is building amphibious assault vehicles, all of which are unnerving China, which is also expanding its naval capability and is building a new super carrier.
The commission of the new warship comes amid tensions with Beijing over a group of small islands, over which both countries claim sovereignty. The islands, called Senkaku in Japan and Diaoyu in China, are rich in mineral resources and both countries have sent military patrol boats to the area.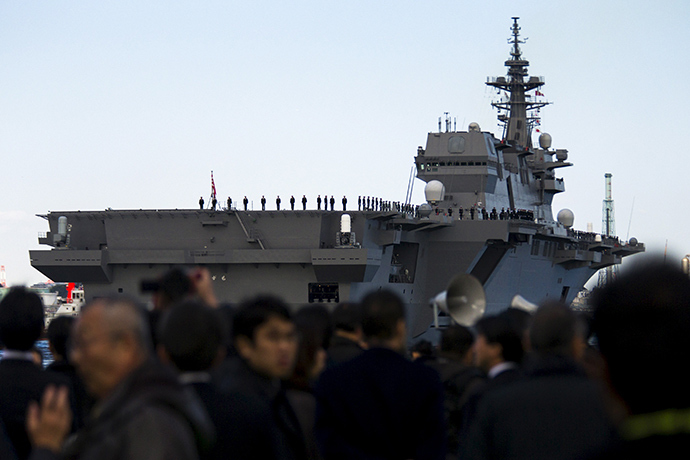 READ MORE: 'Stick to peace': China warns Japan to remain pacifist as Tokyo eyes military return
In January, Japan approved its biggest military budget in 70 years, to an unprecedented $42 billion, and in February it was reported that Tokyo is also planning to revise a law whereby civilians have control over the national defense forces. The ruling Liberal Democratic Party also wants to adopt legislation, which would allow the Japanese military to more easily serve overseas.
READ MORE: Japan set to loosen control over military introduced post WWII – report
China has called on Japan to "remain on the pathway to peace."
"If Tokyo attempts to tackle the war incorrectly, or to impose ambiguity or defiance upon its war-related actions, we will worry about it further honoring the pathway of peace," said Cheng Yonghua, China's ambassador to Japan.
Saul Takahashi, a Japanese human rights lawyer and activist, wrote last year that public debate is largely in favor of Abe's military policies, even though it has alarmed many of Japan's neighbors and allies.
"Abe has essentially declared war on all aspects of Japan's pacifism, and the results can only be disastrous – for the country and for the world," he said.
You can share this story on social media: