Switzerland launches criminal probe into illegal, 'anti-aging' animal cell injections
Published time: 28 Mar, 2015 15:25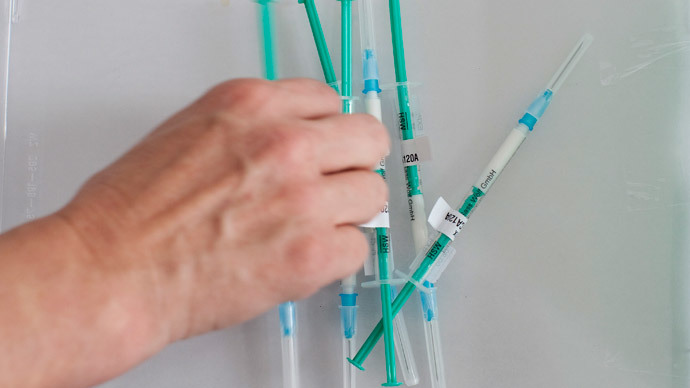 Swiss health regulators have announced that they started a criminal investigation into clinics and people who offered illegal animal cell injection as an anti-aging treatment.
Authorities have said they are aware of at least 35 clinics giving the potentially dangerous procedures, and they don't have permits to perform the injections, according to AFP.
Most institutions that offer these supposedly anti-aging treatments are situated on the shores of Lake Geneva between Lausanne and Montreux.
Last year, the clinics were already warned to stop the procedures.
In a statement released Thursday, the Federal Office of Public Health (OFSP), the Swiss health authority, announced that "criminal proceedings were initiated against several clinics and different people" that engage in the practice, Les Echos news portal reported.
The treatments allegedly bring millions of euros to clinics per year, according to Swiss media reports.
READ MORE: Scientists work to create fat-burning 'exercise' product
Live cell treatments were invented in 1930s by Swiss doctor Paul Niehans and involve injections of sheep, cow or pig fetuses' cells into patients. They promise an anti-aging effect, and also supposedly can help to battle migraines and chronic conditions such as cancer.
However, health regulators say there is no scientific proof that the procedures are effective, and warn that injections can cause allergic reactions, abscesses and blood infections, plus the cells can infect patients with disease-causing pathogens.
The injections were especially popular among wealthy Chinese, Middle Eastern and Russian nationals, according to the Federal Office of Public Health (OFSP).
The head of a travel agency focusing on medical tourism for Chinese citizens opposed the measure.
"These treatments work. We have clients who come back every two years. If it didn't work, people wouldn't spend so much money," Swissna agency owner Xu Junhua said, as quoted by AFP.