Scientists work to create fat-burning 'exercise' product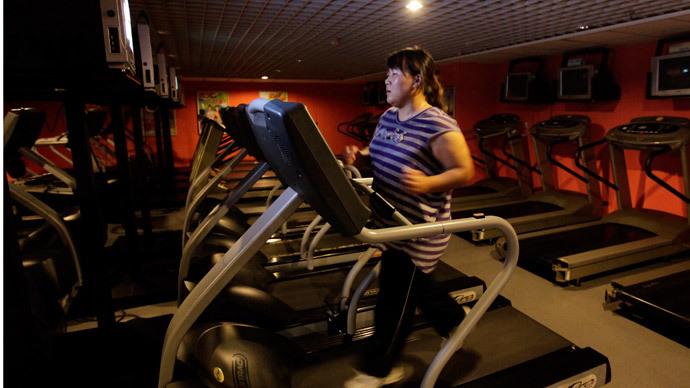 A team of scientists is working to create a product that can mimic or enhance the fat-burning effects of physical exercises. The key to the magic drink is in a special protein the team is trying to extract from fruit.
Scientists at the Nestlé Institute of Health Sciences in Lausanne, Switzerland, say they have learned how our metabolism is regulated by a "master molecule" which controls the energy balance of the body.
It is all about an enzyme called AMPK and its role in human metabolism.
"AMPK is a key protein in every single cell in your body and is naturally activated by exercise.
"It monitors your energy status, like a fuel gauge in a car, and tells you to fill up when your energy is low," Nestle's Prof Kei Sakamoto said.
The AMPK is generally activated by physical exercises but according to the researchers, a compound called C13 can stimulate this enzyme's activity as well. The results of the research were published in the Journal Chemistry & Biology.
"Ideally, we'll be able to develop products that will help promote and augment the effects of exercise," Sakamoto said.
The researchers believe the new products will be very helpful for people with metabolism problems, such as obesity and diabetes Type 2. It could also help people with limited possibility to exercise because of age, illness or physical condition.
"Our research has revealed new knowledge about this master switch. In some conditions, such as diabetes, the body doesn't respond properly to insulin and muscle cells reject the message about their need to take up glucose," Sakamoto said. "However, even under such medical conditions, AMPK can find an alternative way and take up glucose in muscle. Ideally, we'll be able to develop products that will help promote and augment the effects of exercise."
READ MORE: Activating single gene could extend human lifespan by 30% - scientists
So, these products would use the same cellular mechanisms normally activated by exercise. With the drink even a not very active workout will have an effect.
"Instead of 20 minutes of jogging or 40 minutes of cycling, it may help boost metabolism with moderate exercise like brisk walking. They'd get similar effects with less strain," Sakamoto told The Bloomberg.
However, scientists warn that even when created the product should not replace exercising at all.
"Exercise has so many different effects – a cognitive role and physiological function – we'll never be able to mimic all those effects in a single product," Sakamoto said.
However, despite the Nestle team has got closer to inviting the breakthrough product than anyone ever before, it can take years to achieve results in pills or drink ready to use. The next stage is to find natural substances – fruit or plants - which can trigger C13 and to use them in production.
"The next stage is to identify natural substances that can influence this molecular mechanism," Ed Baetge, head of the Nestlé institute, said. "This could lead to the development of new dietary approaches with targeted effects on the body that, like exercise, could help in addressing metabolic problems and maintaining a healthy energy balance," he said.
Pharmaceutical companies have been pursuing the same goal for years.