Lavrov condemns Reuters report on MH17 crash, calls for 'unbiased, professional' investigation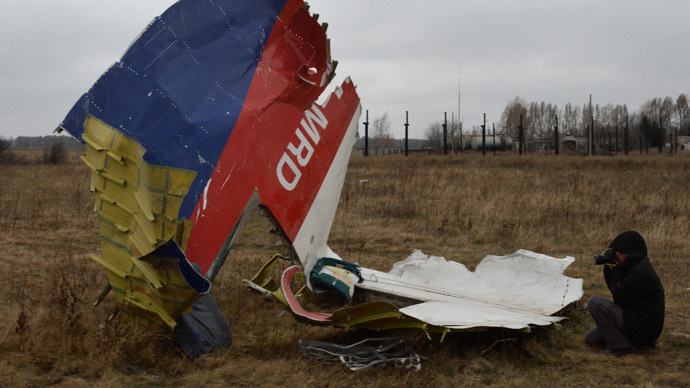 Russia's foreign minister Sergey Lavrov has condemned a news report of witnesses' statements, in which people said they had seen a rocket fired at the time of Malaysian Boeing crash in Ukraine in July 2014. "Looks like a stovepiping," Lavrov said.
"Attempts at distorting facts, enforcing versions on what could have happened continue to exist, with some based on openly dirty intentions," Lavrov told journalists on Thursday. Commenting on last week's Reuters report on "new evidence on the downing of the Malaysian plane over Ukraine," the minister said that it looked like the "respected agency" had published "a so-called stovepiping."
READ MORE: Ukraine media falsely claim Dutch prosecutors accused Russia of MH17 downing
READ MORE: Shocking amateur footage shows MH17 crash aftermath (VIDEO)
"[There are] some witnesses, who contradict one another, and express things amusing for any specialist. For instance, some wiggling rocket, separating rocket stages, blue clouds of smoke," the minister said, adding such information has been provided by alleged eyewitnesses, who managed to see the crash despite being 25 kilometers (15 miles) away from it, in cloudy weather.
According to Reuters, villagers in eastern Ukraine "saw a missile flying directly overhead just before a Malaysian airliner was shot out of the sky on July 17 last year, providing the most detailed accounts to date that suggest it was fired from territory held by pro-Russian rebels."
READ MORE: Dutch government refuses to reveal 'secret deal' into MH17 crash probe
Having published stories of several people living in a village some 20 kilometers from the crash site, the report concluded that "the accounts do not conclusively prove the missile launched [from there] was the one that brought down the airliner, because none of the villagers saw it actually being launched."
EXCLUSIVE: From an eastern Ukraine village, new evidence on the downing of #MH17. http://t.co/5d15rzRIZqpic.twitter.com/9jZqzUmUYp

— Reuters Top News (@Reuters) March 12, 2015
"Nor could they shed light on a contention of officials in Kiev and in Western states, that the BUK missile battery was brought in from Russia and was operated by a Russian crew," Reuters reported.
READ MORE: Malaysia excluded from MH17 probe – for 'not pointing fingers at Russia'?
Russia closely follows the investigation and examines any facts that could shed light on it and help determine the identities of those who were in charge, Lavrov said at a press-conference in Moscow.
READ MORE: Could SU-25 fighter jet down a Boeing? Former pilots speak out on MH17 claims
"We call for an objective, unbiased, professional examination of each and all facts and versions, and consider it unacceptable for anyone to assume that they have a monopoly on truth before such investigation finishes," the minister said.
There have been a number of other witnesses' reports, "recorded on camera," Lavrov reminded reporters, saying that such evidence has been dismissed both by Western counterparts and the media. Citing witnesses who saw a fighter jet flying at the time of the crash, and reports of a person who worked at a Ukrainian military base who said one of the jets "returned there without one rocket," Lavrov said opposing accounts have not been given deserved attention.
READ MORE: Witness account of Ukraine MH17 takedown confirmed by lie detector – investigators
Questions posed by Russia's defense ministry remain unanswered, the foreign minister added, saying there are still no promised images from American satellites or recordings of Ukrainian air traffic controllers' communications with the plane and other aircraft at the time of the crash.
READ MORE: 'Least visited crash site in the world': More blame than answers 6 mo after MH17 tragedy
"I have no hope of getting answers to these questions any more," Lavrov said, adding that Russia will continue to study all available information to get to the truth of what happened to MH17 flight.
With an official investigation into the crash dragging on for months, Moscow has criticized the slow process that doesn't provide much information several times before, and called for a more proper and open probe. Despite all the hype around the crash, the investigators do not seem to be in a hurry, Russian FM has previously said.
The Malaysia Airlines Boeing 777 was en route from Amsterdam to Kuala Lumpur when it was allegedly taken down over Ukraine, killing all 298 people on board. The investigation of the crash is led by the Netherlands, as the majority of its victims were Dutch.
READ MORE: Not alone: New radar data indicates other jets on MH17 course before crash
Anti-government militia in eastern Ukraine have been largely blamed by Kiev and its western allies for shooting down the airliner, with the use of a Russian-made BUK anti-aircraft missile system. While the rebels have been denying their involvement in the crash, the Russian Defense Ministry has published radar data pointing to other possibilities, including an attack by a Ukrainian fighter jet as the cause of the tragedy.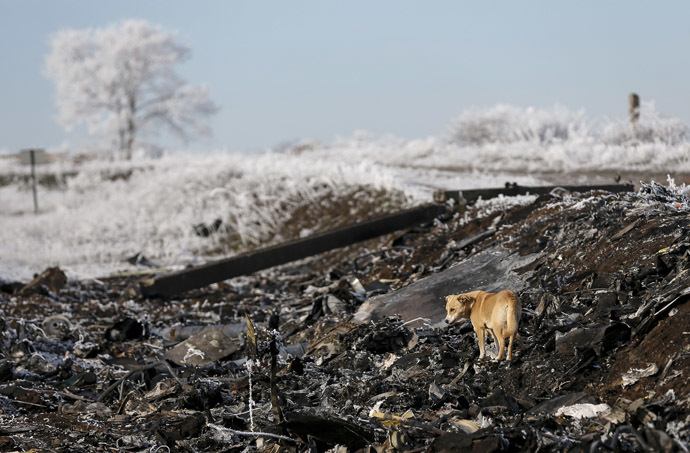 On Thursday, the ministry also condemned a report on the Malaysian Boeing investigation, earlier released by the Ukrainian Security Council. Russian Defense Ministry spokesman Igor Konashenkov said a Ukrainian statement claiming that its security council has studied 5.5 billion webpages after the crash is "surprising."
"It is easy to count [whether the Ukrainian security officials]...went through 23 million pages a day – or some 700 pages a second," Konashenkov said, adding anyone could decide for themselves if it was "physically possible."
The official also questioned pictures of an alleged parts of Russian BUK damage elements, reportedly found during the investigation. He said that elements on the released pictures could have been parts of BUK modifications owned by the Ukrainian army, with Russian BUKs having different types of these elements. He expressed hopes for a "more professional" investigation.
You can share this story on social media: