Witness account of Ukraine MH17 takedown confirmed by lie detector – investigators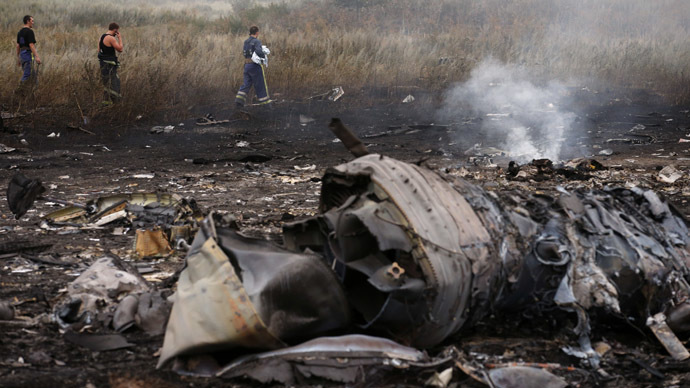 Russia's Investigative Committee has confirmed the claims by a Ukrainian, who said he witnessed the deployment of a Ukrainian warplane armed with air-to-air missiles on the day the Malaysian Airlines flight MH17 was shot down.
READ MORE: Russia to probe media reports that Ukraine military shot down MH17
The interview was conducted on Tuesday, spokesman for the committee Vladimir Markin told the media on Wednesday.
This followed a report in a Russian newspaper, in which the Ukrainian citizen, who preferred to remain anonymous, voiced his allegations.
The investigators used a polygraph during the interview, which showed no evidence of the witness lying, he added.
"The facts were reported by the witness clearly and with no inconsistencies. The investigators lean towards considering them truthful. A polygraph examination confirmed them too," the official said.
"According to his account, he personally saw the plane piloted by [Ukrainian military pilot] Voloshin armed with R-60 air-to-air missiles," Markin said. "He added there was no need for such weapons during regular air missions of the Ukrainian Air Forces because the rebel forces had no military aircraft."

Markin said that the Investigative Committee will continue gathering and analyzing evidence perpetrating to the downing of MH17 and will share the information with the Netherlands-led international probe into the incident, "if they really interested in establishing the truth and send an inquiry."
The witness is likely to be taken into protective custody in Russia because his life may be threatened, Markin said.
The Ukrainian Security Service confirmed on Wednesday that a Captain Voloshin does serve as a military pilot in the country's armed services. But it said he didn't fly any missions on the day the Malaysian Airlines flight was shot down.
The Russian Investigative Committee invited the Dutch or Malaysian experts to check Voloshin using a polygraph, and Ukraine's Security Service to provide the military log to the official investigation, Markin said.
"The fact that Ukraine's Security Service has acknowledged Voloshin's existence is already an accomplishment," he said.
Markin suggested the air traffic controllers operating in the area on the day of the catastrophe should also be questioned, adding that they should be "found" first.
"It is clear that all this is very difficult, and probably impossible. It is much easier to call the information and evidence provided by Russia's Investigative Committee 'fake'," he said.
The Russian Defense Ministry made public radar data indicating that a Ukrainian military jet capable of taking down the airliner with an air-to-air missile was in the vicinity of MH17 at the time of the incident.
READ MORE: Netherlands rejects MH17 relatives' request for UN investigation
The international investigation's preliminary report said MH17 was downed by an external force, but would not elaborate on the nature of that force, leaving the parties involved free to trade accusations.
You can share this story on social media: