Australian criminals secretly sending future jihadists to Syria – report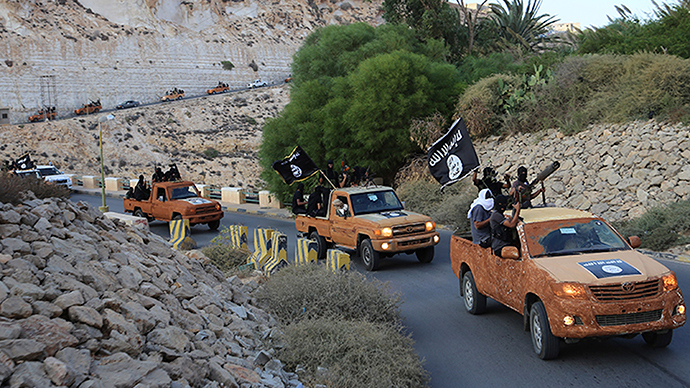 A criminal group was secretly sending would-be extremists to Syria, documents obtained by Australian media claim, also indicating that a community member made "fake international passports" for future fighters.
A lawyer, accountant, a "travel agent" and a community member were allegedly involved in the covert operations,claimthe documents, which were obtained by Fairfax Media and published in The Sydney Morning Herald.
READ MORE: 'Imminent' attack thwarted: Knives, ISIS flags seized from 2 Australian suspects
The data was collected under freedom of information laws. It contains personal details, including names and telephone numbers as well as the workplace of some of those involved in the case. The documents were passed to Australia Federal Police in Melbourne.
READ MORE: Australian 'terror suspect' shot dead after stabbing 2 police officers
A police probe showed that one person who was allegedly involved in delivering would be-jihadists to Syria, had previously tried to leave Australia with large amounts of cash. Another alleged participant had moved large amounts of money to family members.
Police said they were not certain if the person named in the documents as the "travel agent" was the same person they had located and that person did not work in a real travel agency.
"The searches concluded have provided no confirmation of people smuggling activities. It is recommended, no further action is required pending more information," a police report said.
The investigation was then halted by police who refused to comment on their activities on probing the data that the travel agent could be sending future extremists to Syria
"The [Australia Federal Police] continues to investigate a number of people suspected of facilitating the travel of people to Syria, who are intending on engaging in the conflict," a police spokesman said.
The report comes as Australia is desperately trying to find out how its young citizens are being radicalized and to detect those behind sending them to Syria and Iraq to fight alongside Islamic state.
On Thursday it was revealed that the country's authorities are investigating claims by Islamic State [also known as ISIS, or ISIL] that an Australian teenage recruit died after blowing himself up in the Iraqi city of Ramadi on Wednesday.
A blog post believed to be written by Jake Bilardi, 18, under his pseudonym Abu Abdullah al-Australi, revealed how he had considered carrying out attacks on home soil. Local media also reported that bomb-making materials had been found at his family home in Melbourne.
"This plan involved launching a string of bombings across Melbourne, targeting foreign consulates and political/military targets as well as grenade and knife attacks on shopping centres and cafes and culminating with myself detonating a belt of explosives amongst the kuffar," the blog read. Kuffar is an Arabic term translated "unbeliever" or "infidel" and has a derogatory meaning.
READ MORE: 'High risk' terror inmates banned from communicating in Arabic at Australian jail
Earlier in March two teenage brothers, aged 16 and 17, were detained by authorities at Sydney Airport on suspicion of preparing to travel to the Middle East to join Islamic State militants, Australia's Immigration and Border Protection Minister Peter Dutton said.
The official did not reveal the exact flight plans of the brothers, saying only that their parents were unaware of their plan.
Since Australia raised its terror threat level to "high" in September, a number of raids have been carried out by authorities in major cities to prevent possible attacks by Australians radicalized in Iraq or Syria. Australia believes at least 70 of its nationals have fought for Islamic State in Iraq and Syria, backed by 100 "facilitators" back home.
However, in December, ISIS supporters inflicted fear in the eyes of Australians after a hostage situation in Sydney when a gunman identified as Man Haron Monis, an Islamic extremist, held 18 people captive in a 16-hour siege at a Sydney cafe. Monis and two hostages died in the siege.
READ MORE: Sydney gunman identified as Iranian-born Man Haron Monis, on bail for violent crimes
Australian authorities knew of Monis' extremist outlook prior to the hostage siege, from threat letters he sent to Australian soldiers deployed in the Middle East, Prime Minister Tony Abbott said.