​Bride & prejudice: Groom minus wife after failing simple math test
Published time: 13 Mar, 2015 12:29
Edited time: 14 Mar, 2015 08:51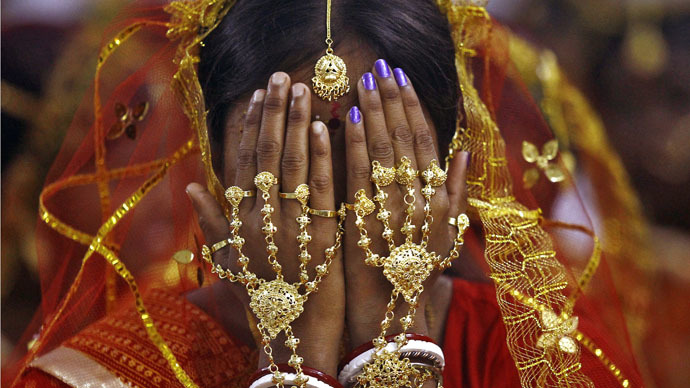 An Indian bride has refused to marry her groom during a wedding ceremony after he failed to solve a simple mathematical test. She asked him what 15 plus 6 equals. When he answered "17", she simply 'left him at the altar'.
The incident happened in the village of Rasoolabad in Uttar Pradesh state, northern India, local police officer Rakesh Kumar said on Friday.
The bride-to-be, identified by the Times of India as 'Lovely', became suspicious about future husband Ram Baran's level of education. So her cousins asked him to solve a mathematical task.
When the wrong answer was given, Lovely walked out of the wedding ceremony. Baran's family tried to persuade her to return, but she was unshakable: he had misled her about his level of education in a calculated manner.
"Any Class 1 student must be able to solve the simple problem asked by us," Mohar Singh, the bride's father said. "The family of the groom had kept us in dark about the youth's qualification."
"It was a very embarrassing situation for all of us, as we had come with all preparations and it was a matter of social prestige as well. We have been cheated," he added.
Police authorities didn't take any action against the numerically-challenged would-be groom. The families reached a compromise and then returned all jewelry and gifts they had exchanged before the wedding.
"Both families have amicably resolved the matter," a police officer said.
This is not the first 'Runaway Bride' case in Uttar Pradesh this year. In February, a bride-to-be married a wedding guest after the intended groom suffered an epileptic fit. The bride and her family were angry that the groom and his relatives had concealed the truth about his condition.
Marriages in India are generally arranged. The couples can only have brief meetings and rarely manage to get to know each other before the nuptials. This can sometimes add up to mismatches.