Car blast in Kharkov weeks after fatal rally bombing (VIDEO)
Published time: 6 Mar, 2015 10:55
Edited time: 6 Mar, 2015 12:37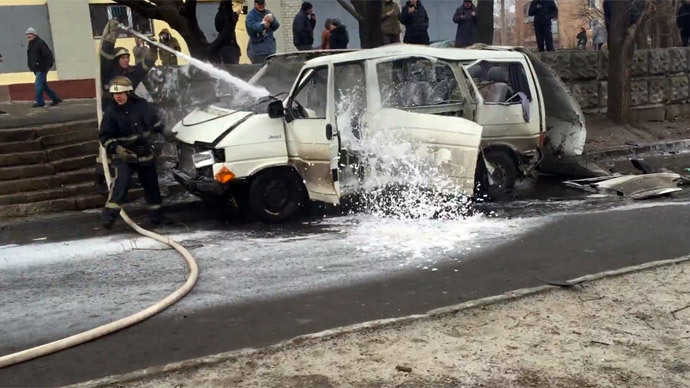 Two people have been injured by a blast that destroyed a car in Kharkov, a government-controlled city in eastern Ukraine. The incident happened just weeks after the authorities announced heightened security in response to a fatal bombing at a rally.
#BREAKING: A car exploded in Ukraine's #Kharkiv minutes ago. pic.twitter.com/xw8O6srfgi

— Yury Barmin (@yurybarmin) March 6, 2015
The car, a white Volkswagen mini-van, was heavily damaged, pictures from the scene indicated.
The local emergencies services said the two injured in the incident have been taken to hospital.
The car belongs to Andrey Yangolenko, a commander of a local pro-government volunteer battalion, his brother Segey, who commands another battalion in Kharkov, told Interfax Ukraine. Andrey and his wife were injured in the blast, he said.
Sergey Yangolenko added that the assailants used magnetic mines in the car bombing. One of the explosives didn't detonate and was later found by Kharkov police.
The blast comes weeks after a bombing attack on a pro-government march in Kharkov, which killed three people, including a police officer.
READ MORE: At least 2 killed in blast at 500-strong rally in Kharkov, Ukraine
Less than an hour after the bombing Kiev blamed the attack on "Russia-trained terrorists." An aide to Interior Minister Arseny Avakov, Anton Gerashchenko accused the group called 'Kharkov partisans' of the deed. The group denied having a hand in it and accused the authorities of staging a provocation.
Another version voiced by radical Ukrainian politician Oleg Lyashko pointed to the city's Mayor Gennady Kernes, who is reportedly engaged in fierce confrontation with Avakov. Kernes denied the accusation.
The mayor himself is being prosecuted on allegations of unlawful detention and intimidation, charges unrelated to the blast. Kernes said he didn't believe he would be tried fairly and accused his political enemies of persecution.
Kharkov has witnessed a number of explosions over the past few months, although the February 22 bombing of the rally was the first that resulted in fatalities. Previously offices and vehicles were targeted in a series of nighttime attacks, which caused some property damage.
READ MORE: 13 wounded in blast outside Kharkov courthouse in Ukraine – police