​Canadian faces $20k fine, jail time for refusing to unlock phone during airport check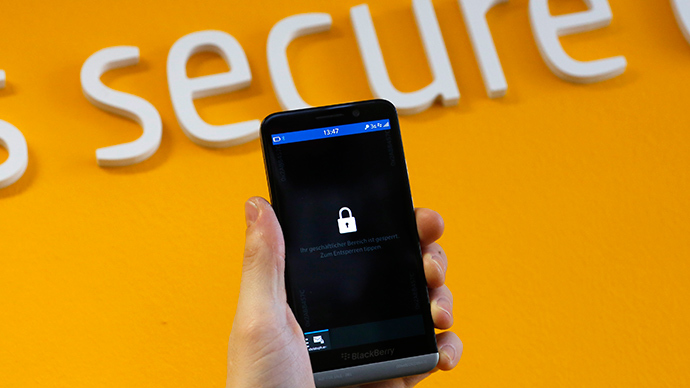 A 38-year old Canadian citizen is facing up to a year in jail and a fine of up to 25,000 Canadian dollars for refusing to unlock his cell and thus "obstructing" an in-depth security screening by the border service officials at the Halifax airport.
Alain Philippon from Ste-Anne-des-Plaines, Quebec, has been detained and charged with "obstructing border officials" after he refused to provide his BlackBerry phone password to Canada Border Services Agency (CBSA) officers upon his arrival from the Dominican Republic this week.
"Philippon refused to divulge the passcode for his cell phone, preventing border services officers from their duties," the Canada Border Services Agency told AFP.
It was not announced why the Quebecan was selected for an in-depth examination, but the agency says that the Customs Act allows border officials to examine "all goods and conveyances including electronic devices, such as cell phones and laptops."
As a result, the man was charged under section 153.1 (b) of the Customs Act. After being let out on bail, and having lost the privilege of using his seized cell phone, Philippon is to appear in court in May to face charges that could see him barred for up to a year and a CAD$25,000 fine.
Philippon told local media he would fight the charges, saying that he refused to provide the password because his smartphone data is "personal."
#Technology - Quebec resident Alain Philippon charged at Halifax airport ... - http://t.co/4g1OtAanx6 - ... pic.twitter.com/l704SITuPB

— Breaking_News (@Press2Today) March 5, 2015
"Officers are trained in examination, investigative and questioning techniques," a border services spokesperson wrote in an email to CBC. "To divulge our approach may render our techniques ineffective. Officers are trained to look for indicators of deception and use a risk management approach in determining which goods may warrant a closer look."
Philippon's case may make him the first person in Canada to test the depth and the scope of the applicable law. "This is a question that has not been litigated in Canada, whether they can actually demand you to hand over your password to allow them to unlock the device," Rob Currie, director of the Law and Technology Institute at the Schulich School of Law at Dalhousie University told CBC.
"[It's] one thing for them to inspect it, another thing for them to compel you to help them," Currie added.
You can share this story on social media: