​Ukraine 'modernization agency' to seek revival of war-torn economy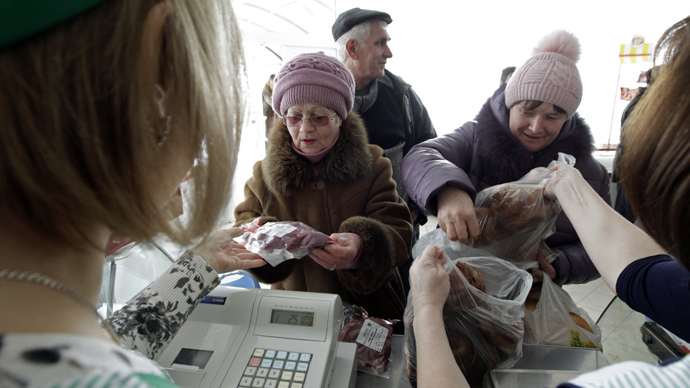 Over 250 influential business people and politicians from Ukraine and the EU gathered in Vienna to discuss ways of salvaging Ukraine's devastated economy and reforms needed to bring back investments to the country.
The forum in the Austrian capital served as an ideal platform for loud rhetoric as well as the announcement of creation of a governing body to lead economic and political reforms: The Agency for Ukraine's Modernization.
The head of the Federation of Employers of Ukraine, Dmytro Firtash, on Tuesday announced the creation of the new body that will be tasked with raising at least $300 billion in investment funds, hopefully at an interest of 3-4 percent per annum.
Gründung der Agency for Modernization of Ukraine. Hat ein bisserl was von Wiener Kongress... ;-) #uatomorrowpic.twitter.com/yYuxdw34M4

— Christoph Moosbauer (@chrmoosbauer) March 3, 2015
According to the plan, over the "next 200 days" the agency, attracting leading international experts, will be developing the overall reform plan with a focus on individual sectors of the Ukrainian economy. The 25-year-long program will be presented in September.
The agency needs to examine the situation and develop such a model that will allocate more decision making powers to the regions, Firtash admitted. He also stressed that investors should understand the attractiveness of investment in Ukrainian economy and the country's other "strong sides" besides "cheap natural resources."
READ MORE: Ukraine replenishes Donbass tank supplies amid ceasefire
Former Austrian Vice Chancellor Michael Spindelegger was appointed as director and coordinator of the newly-founded body.
"This group we have assembled here, this Ukrainian Modernization Agency will work out reform papers which will be sufficient to bring Ukraine on the right way," said Karl-Georg Wellmann from the Christian Democratic Union of Germany
Although attracting the astronomical $300 billion in long term projects – more than the European Union allocated to rescue Greece – will be an almost impossible task, Firtash thinks that for Europe it is a question of war or peace to find the necessary money.
Ukrainian economic situation is catastrophic with the national currency, the hryvnia, losing about 80 percent since last year's coup. The National Bank of Ukraine has just raised its benchmark interest rate to 30 percent from 19.5 percent, reflecting attempts to save the collapsing economy from hyperinflation that some estimate at 272 percent.
Wir brauchen einen vollständigen masterplan für die #ukraine, sagt #firtasch#uatomorrowpic.twitter.com/SIrvSUjcC4

— Veronika Eschbacher (@VEschbacher) March 3, 2015
The prospects of Ukraine's economic recovery remains bleak based on preconditions and reforms that need to be implemented before Kiev gets international aid.
"Ukraine desperately needs reforms – no compromise. Not a little bit reform here, and a little bit reform there. Ukraine will have to implement a system – economic and political – like it is in Europe. This is the pre-condition of the reconstruction and reconsolidation of Ukraine," Wellman said.
Hoping that Ukraine might eventually attract the necessary funds, Lord Richard Risby, the UK's Prime Ministerial Trade Envoy still raised concerns about economic failure in Ukraine.
"As the Ukrainian government would be the first to admit, there is a severe economic crisis in the country, there is a flight of capital, we've seen the devaluation of the hryvnia – all of this is the result of the instability of the country as of what is happening in the east of the country substantially," Risby said.
A "clear signal" should be sent that there are many people in Russia, Europe and even the US who want Ukraine to be a stable and attractive country.
"Of course it is great concern that people are unemployed, that there is a loss of confidence in the business community and, as far as Russia's concerned, I would have thought it would be in the interests of Russia as a major trading partner traditionally of Ukraine to have a stable to have a stable and prosperous Ukraine," Risby added.