Dubai's deal with Kiev includes no weapons supplies – UAE Foreign Ministry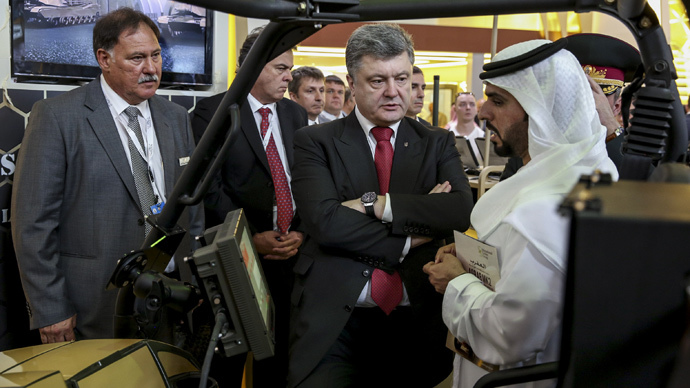 The United Arab Emirates is not selling military equipment to Ukraine, despite earlier statements by Kiev officials, the UAE Foreign Ministry said.
"An agreement on cooperation in defense technologies the UAE and Ukraine signed recently does not stipulate any contracts for deliveries of weaponry to the Ukrainian side," said Faraj Faris al-Mazrouei, adviser to UAE Foreign Minister Abdullah bin Zayed Al Nahyan.
The deal was only one element in a future system of cooperation between the two countries in the field of defense technologies, RIA Novosti reported al-Mazrouei as saying, citing the Emarat Al-Yawm news portal.
READ MORE: E. Ukraine artillery withdrawal focus of FMs meeting – as Poroshenko buys UAE weapons
The UAE and Ukraine signed a memorandum of understanding on military-technical cooperation during the IDEX-2015 defense exhibition in Abu Dhabi earlier this week.
After the signing, an advisor to Ukrainian Interior Minister Arsen Avakov, Anton Gerashchenko, wrote on social networks that this cooperation would include "the supply of certain types of arms and military equipment to Ukraine" by the UAE.
"The types and volumes of supplies, as you can imagine, are not for disclosure on Facebook," Gerashchenko said.
The advisor stressed that "unlike Europeans and Americans, the Arabs aren't afraid of Putin's threats of a third world war starting in case of arms and ammunition supplies to Ukraine."
Gerashchenko declared that weapons supplies to Ukraine will be UAE's "little revenge" to Moscow, which, he alleged, Abu Dhabi blames for the recent drop in oil prices.
Ukrainian President Petro Poroshenko has claimed that Kiev signed about 20 contracts on arms supplies at the recent International Defense Exhibition fair, IDEX-2015.
"Deals to supply of defensive weapons to Ukraine have been signed with European, American and Middle Eastern companies," Poroshenko said.
READ MORE: US arming Kiev would 'explode' situation in E. Ukraine – Russian Foreign Ministry
Kiev has signed new military contracts, despite the a military conflict in Eastern Ukraine with withdrawal of heavy weaponry currently being under way there in accordance with the Minsk-2 peace deal from February 11.
Earlier this month, US President Barack Obama also said that his administration is considering arming Ukrainian troops fighting against the rebels in Donetsk and Lugansk Regions.
The Ukrainian military conflict began in April 2014, after Kiev sent its military to southeastern regions of the country that refused to recognize the new coup-imposed authorities in the capital. Nearly a year of fighting has led to least 5,793 killed and another 14,595 people wounded, according to UN estimates.
You can share this story on social media: